If you're searching for an effective solution to minimize wrinkles and other indications of aging, you may have come across Truskin's Retinol Serum. This product is gaining popularity due to its natural ingredients and efficiency. But is it truly worth the hype?
Our skin may get wrinkles, fine lines, dark circles, age spots, and other skin conditions as we get older.
We all want to maintain youthful, healthy-looking skin, but many people are reluctant to use chemical-based treatments since they may irritate their skin or even make it worse.
Natural skincare products are becoming more and more well-liked since they are gentler to the skin and provide excellent topical benefits. Truskin's Retinol serum is one such product claiming to be a natural and strong anti-aging treatment.
In-depth information about the TruSkin Retinol Serum will be covered in this review, including a summary of the product, a close examination of its ingredients, usage guidelines, and a determination of whether it is appropriate for all skin types.
To help you decide if this product is good for you, my review will also go into great detail about my experience with Truskin Retinol Face Serum.
Truskin Retinol Serum Review
Product Details
Truskin Retinol Serum is an anti-aging face serum filled with retinol, aloe vera, botanical hyaluronic acid, and vitamin e to effectively moisturize skin.
It is made with ingredients that promote collagen formation and cellular turnover for better texture, firmness, and reduction of fine lines and wrinkles.
It also focuses on tone and discoloration to support skin that is lighter, smoother, and more evenly toned.
Its potent antioxidant compound battles free radicals to protect against premature aging. The serum's special lightweight formula offers effective layering under other skincare products for maximum efficiency.
Retinol is the most effective, well-known, and excellent component for treating aging imperfections. Here, the retinol serum has a soft, and lightweight texture that is ideal even for sensitive skin types.
Price
$19.99 for 1 fl oz
Truskin Retinol Serum Ingredients
Full Ingredient list: Organic deionized herbal infusion, botanical hyaluronic acid, witch hazel, kosher vegetable glycerin, organic aloe, wheat germ oil, organic jojoba oil, retinol, vitamin E (tocopheryl acetate), organic green tea, propolis extract, organic gotu kola, horsetail extract, wild geranium, organic dandelion extract, pentylene glycol, hydroxyethyl ethylcellulose, carrageenan, polysorbate 20, potassium sorbate, sodium benzoate, alcohol, lecithin, ethylhexylglycerin.
Ingredient Analysis:
Hyaluronic acid: Its plant-based hyaluronic acid makes a solid connection with water, pulling and sealing in moisture to minimize the look of wrinkles and fine lines and to enhance long-term tissue hydration and health. Antioxidant properties are also recognized to smooth skin and give it a more young, luminous glow.
Witch hazel: It functions as an astringent to help in pore reduction, skin calming, and inflammation reduction.
Glycerin: As a humectant, it helps the skin retain moisture, become more hydrated, reduce dryness, and regenerate the outer layer of the skin from the inside out. Also, it has emollient properties, which help soften skin.
Wheat germ oil: It has anti-inflammatory properties that help to relax and lessen skin inflammation and redness. Moreover, it contains anti-aging and antioxidant properties. As a result, it can combat free radicals that harm the skin and produce wrinkles.
Jojoba oil: It can seal the skin and enable it to retain moisture because it is a natural humectant. Jojoba oil is a powerful antioxidant and a good source of vitamin E, which means it can protect your skin from oxidative stress brought on by frequent exposure to pollutants.
Retinol: Retinol promotes the growth of new skin cells. It helps in pore cleaning. Moreover, retinol exfoliates your skin and boosts collagen production, which can lessen the visibility of wrinkles and fine lines and give your skin a younger, plumper appearance.
Vitamin E: This potent, highly penetrating antioxidant is a beneficial ingredient that binds moisture into the skin. It fights skin aging from the inside out.
Green tea: Vitamins E and B2 included in green tea help to maintain healthy skin. While vitamin E promotes the creation of new skin cells and softens and illuminates the skin, vitamin B2 helps to maintain the skin firm and youthful.
Propolis extract: Propolis may help to smooth out the skin and lessen the appearance of wrinkles. Propolis, a natural sealer, might also help the skin in retaining more moisture so that it can keep a healthier, more radiant complexion.
Gotu kola: A substance that prevents free radical damage and works as an antioxidant to maintain skin tight.
Horsetail extract: Horsetail, with its skin-soothing properties and antioxidants, will help improve the overall texture and tone of the skin.
Wild geranium: Its antimicrobial, antibacterial, and antiseptic characteristics make it useful for minimizing acne outbreaks, itchiness, and skin infections.
Dandelion extract: Because dandelion can prevent microbial infections, it's an excellent acne-fighting skincare ingredient.
Pentylene glycol: It holds the water and delivers it to the skin's outer layer. Hence, cosmetics containing propylene glycol are beneficial for hydrating skin and addressing dryness and dullness.
Hydroxyethyl ethylcellulose: It is a naturally derived thickening element that provides the cosmetic product an excellent texture and makes it simpler to apply to the skin.
Carrageenan: Its water-binding ability keeps skin hydrated and moisturized. It is praised for its properties to thicken, emulsify, and moisturize.
Polysorbate 20: When combining oil and water, polysorbate 20 is utilized as an emulsifier and is thought to be a safe ingredient in cosmetics.
Potassium sorbate: It is used as a preservative to keep your skincare products stable and extend their shelf life.
Sodium benzoate: It works as a preservative to stop bacteria and mold from growing in skincare and cosmetic products.
Lecithin: As a humectant, it helps in the body's ability to retain moisture. It moisturizes the skin by absorbing moisture.
Ethylhexylglycerin: It has been demonstrated to have modest humectant properties, resulting in increased skin hydration without leaving a sticky residue.
What the product claims:
Improves fine lines and wrinkles.
Promotes a more uniform skin tone and texture.
Improves skin's hydration levels.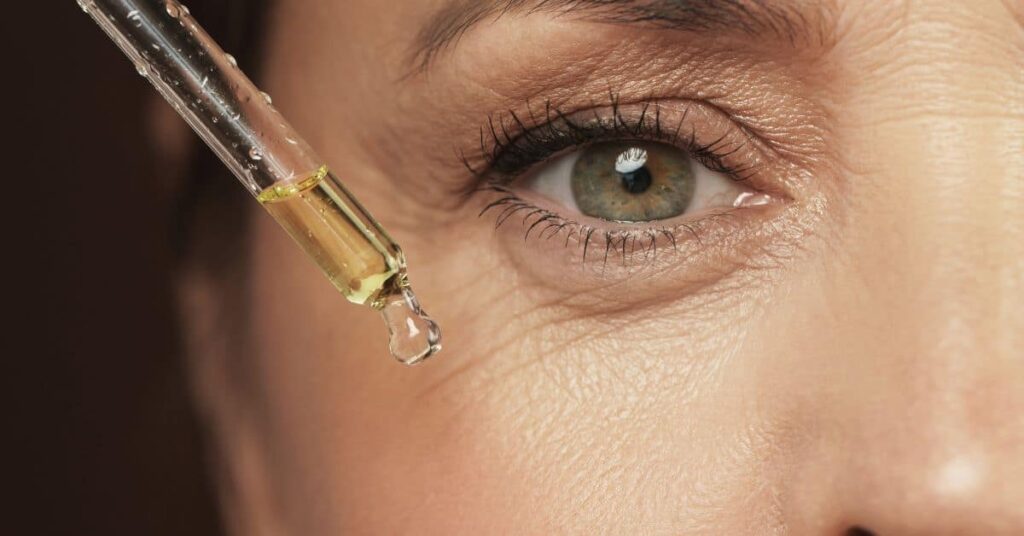 My experience with Truskin Retinol Serum
I started using Truskin Retinol Facial Serum around two months ago, and I saw improvements in my fine lines and skin hydration within a week. Also, I notice a change in my smile lines.
My skin is sensitive and a combo of dry and oily. I've been using it in addition to Truskin's daily toner, and it has significantly improved the condition of my skin. My skin feels so soft and appears even, and the fine lines on my forehead and around my eyes have vanished.
It never burns or stings my skin like other retinal serum products usually do, which is sensitive. My skin didn't react negatively at all. It also doesn't leave behind any dryness or peeling. I used more lotion after use, so it might have initially dried out.
This Truskin serum has kept my acne at bay and has gradually cleansed up my acne scars. My skin looks and feels brighter and better. I combine this at night with the HA every other day, and I use the vitamin C solution in the mornings.
Unlike other products, this one doesn't leave your face sticky. My face feels soft and silky after using this. With about two weeks of use, applying it morning and night, it has eliminated my crow's feet around my eyes.
For my fine lines and wrinkles, I adore applying this retinol serum. It flows easily and has a wonderful consistency. It reduces the appearance of fine lines, particularly around my eyes. It could slow down the aging process. For me, it is the best anti-aging face serum.
Overall, Truskin Retinol Serum gradually works to improve wrinkles, fine lines, skin tone, texture, color, pigmentation, and skin hydration, which is a huge bonus in my opinion.
It not only helps with dry skin and moisture but also with wrinkles and skin firmness. When it comes to having beautiful skin and looking your best, moisture is the most important factor.
The percentage of retinoids in Truskin retinol serum is not mentioned on the package or on the website, which is the only drawback.
Packaging
The Truskin retinol serum is packaged in a glass bottle with a black dropper. The dropper works flawlessly to extract every drop from the thick, heavy glass bottles. The application is less untidy, and the product retains its freshness for a longer period of time. It is simple to use and portable. All of the information, such as the usage instructions, ingredients, and price, is mentioned on the packaging.
Consistency
It is a velvety, lightweight antioxidant serum. Although it has a little thick consistency, a little goes a long way. It absorbs easily, making it simpler to put on at night.
Fragrance
This serum has a pleasant, subtle scent.
How to use Truskin Retinol Serum
Use 3-5 drops of serum to clean hands and gently pat the product onto a clean face and under the eyes after applying your cleanser and toner.
After allowing it completely penetrate, apply your preferred moisturizer and sunscreen.
If you've never used retinol before, begin by introducing it into your routine by applying it just two or three times each week.
Retinol accelerates skin cell turnover but if used excessively in the beginning, it might dry out the skin's surface.
Before using a serum on your full face, always conduct a patch test on a small region of your arm, face, or neck for at least 24 to 48 hours. This will ensure that the serum's contents are suitable for your skin.
This serum is potent. While using any retinol product, we advise utilizing sunscreen during the day.
Pros of Truskin Retinol Serum
Vegan and cruelty-free
Dermatologist tested
Clinically tested
Lightweight formula
Improve skin texture
Best anti-aging face serum
Reduces wrinkles effectively
Diminish signs of aging
Enhance moisture retention
Free from parabens, sulfates, phthalates, pegs, or added fragrance
Cons of Truskin Retinol Serum
Contains Alcohol
The bottle does not mention the concentration of retinol.
Some potential side effects of using Truskin Retinol Serum
Truskin Retinol Serum may produce some side effects, especially if used incorrectly or if your skin is sensitive to retinol. Possible negative effects include:
Dryness and flakiness: Retinol can make you feel dry and flaky, especially when you first begin using it. This is due to the fact that it speeds up skin cell turnover, which might cause some flaking or peeling.
Redness and irritation: Retinol can produce redness and irritation, particularly if used excessively or if you have sensitive skin.
Sun sensitivity: Retinol might make your skin more susceptible to the sun, thus it's crucial to use sunscreen when using it.
When using Truskin Retinol Serum, it's crucial to start out cautiously and adhere to the advice on the container. It is advised to see a dermatologist if the side effects intensify or continue.
Final Verdict
Overall, Truskin is the best anti-aging facial serum that stimulates collagen formation to effectively smooth fine lines, glabellar lines, and wrinkles. Even those with sensitive skin types can benefit from the special, soft, and lightweight texture of this retinol serum. It moisturizes and plumps parched skin, giving it a youthful, vibrant, healthier, and moisturized appearance. Anybody looking for the best retinol face serum for fine lines and wrinkles should definitely try it, in my opinion.
Sale