Do you suffer from a scar that has been bothering you for a while? Perhaps it resulted after surgery, an accident, or even acne.
Scars can be unattractive and cause us to feel self-conscious about how we look, particularly if they are on our arms or face where they are visible to others.
Today, I'm going to discuss my favorite silicone scar sheet, the ScarAway Silicone Scar Sheets.
ScarAway Silicone Scar Sheets may be perfect for you if you're searching for an effective and safe way to minimize the appearance of scars.
In recent years, scar treatment has advanced significantly. ScarAway Silicone Scar Sheets, which promise to improve the texture and look of scars over time, are becoming more and more well-liked on the market. But are they actually effective?
ScarAway Silicone Scar Sheets Review
Product Details
These sheets are formed with known silicon technology. Dermatologists and plastic surgeons most frequently suggest silicone as an ingredient of scar reduction treatments.
This method of scar prevention lessens the redness, irritation, and discomfort brought on by scars, including hypertrophic and keloid scars from burns, surgeries, and other injuries. It also helps in reducing acne scars.
ScarAway is a clinically supported scar therapy that uses technologies used by hospitals, cosmetic surgeons, and burn centers to avoid and cure scars. ScarAway Silicone Scar Sheets enhance the look of both new and old scars.
ScarAway Silicone Scar Sheets are comprised of an ultra-thin, breathable fabric that provides maximum comfort for treating scars. These washable and stretchy sheets moisturize and smooth skin while protecting scars from daily activity.
Price
$9.94 for 4 sheets (Buy Here)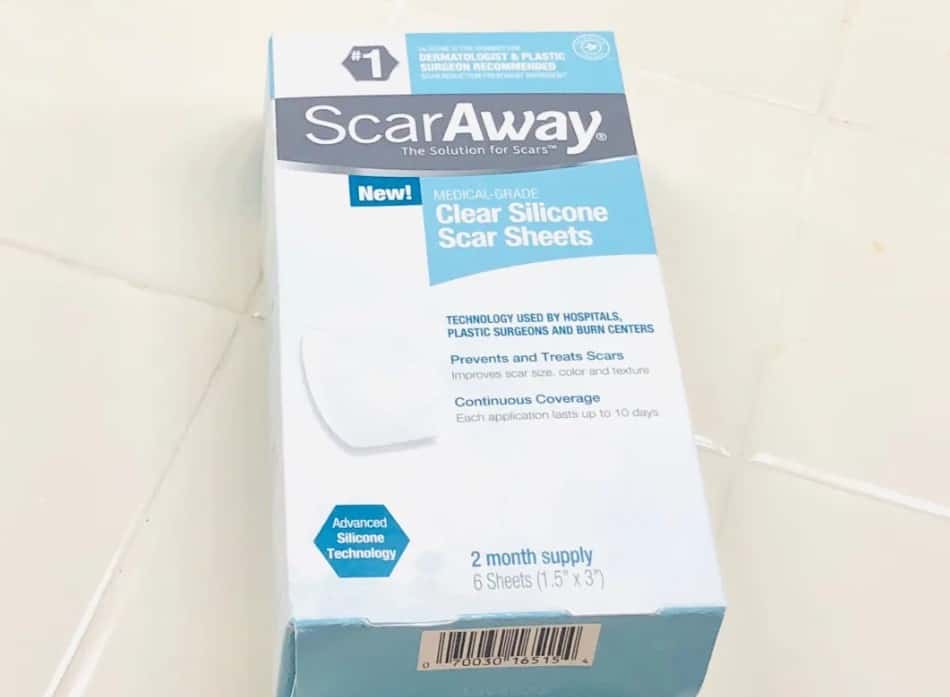 How does ScarAway Silicone Scar Sheets Work?
These silicone scar sheets are effective on keloids and hypertrophic scars as well as on clearly older scars that have already fully healed. It works by forming a barrier of protection over the scarred area, which helps in improving the healing process.
The medical-grade silicone used in the sheets works to moisturize skin, lessen irritation, and stop keloids from growing. ScarAway Silicone Scar Sheets are suitable for treating a variety of scars, including surgery scars, burn scars and acne scars.
My experience with ScarAway Silicone Scar Sheets
I've been using the ScarAway sheets for a few weeks now, and there is already a noticeable difference. The redness around the borders of the scar has faded significantly, and the scar has smoothed out and becomes softer. It is one of the best silicone scar sheets I have ever used.
I have a red, lumpy, inch-long scar on my face. I would pick at it and try to get rid of it since it bothered me constantly. I thought it would never go away or that a dermatologist would have to remove it after trying and failing.
I gave these sheets a try and have seen some improvement in my scar. It now rests comfortably against my skin and is significantly flatter.
It's still there, but the color has changed from red to pink. I believe that this product gives a realistic appraisal that it can only lighten or improve the appearance of scars.
The package includes enough patches for 12 weeks, with each patch designed to last one week. Because my scar is somewhat less than the size of a quarter coin, I cut the patches in half.
The patches are lint roller sticky rather than band-aid sticky. It is simple to peel out and causes no discomfort.
The primary cause of its "loss" of stickiness is the accumulation of fibers of fabric or hair on the bottom edges, but this problem can be quickly fixed by washing with water. Simply run it under the faucet and gently rub the dirt off.
Overall, it is among the best scar-removal solutions I have ever tried—and trust me, I have used a lot of them. Moreover, a daily home scrub made of sugar and hemp oil appears to be very effective in reducing scarring.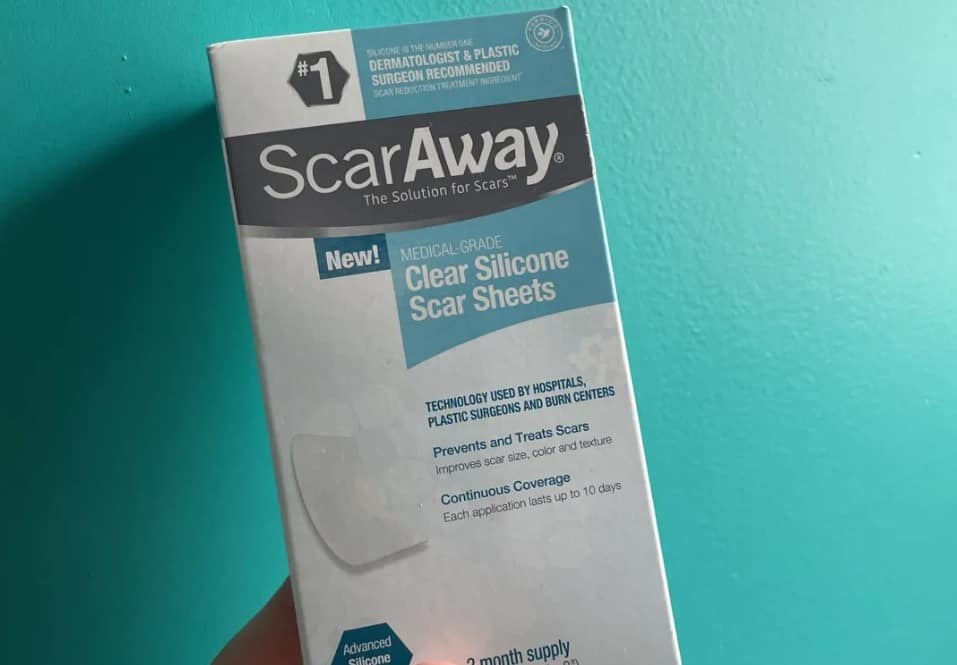 Benefits of ScarAway Silicone Scar Sheets
ScarAway Silicone Scar Sheets offer a wide range of benefits, including:
Effectiveness: ScarAway Silicone Scar Sheets are excellent at lessening the visibility of scars. In clinical research, 92% of users who used ScarAway Silicone Scar Sheets for 12 weeks reported that their scars looked better.
Convenience: ScarAway Scar Sheets are simple to use and can be worn under clothing. They come in a variety of sizes to accommodate varied scar sizes and can be applied to any part of the body, including the face.
Easy to Use: ScarAway Silicone Scar Sheets are simple to apply and remove without causing pain or suffering.
Safety: ScarAway Silicone Scar Sheets are free of any dangerous chemicals or components and can be used on any skin type.
Cost-effectiveness: Compared to other scar treatment methods like laser therapy or surgical scar modification, ScarAway Silicone Scar Sheets are a reasonable alternative.
How to Use ScarAway Silicone Scar Sheets?
ScarAway Silicone Sheets are simple to use. Just take the following steps:
Cleanse and dry the skin around the scar.
To fit the size and shape of the scar, cut the ScarAway Silicone Scar Sheet.
The sheet's sticky side has a protective lining that needs to be peeled off.
Put the sheet's adhesive side on the scar.
Each ScarAway sheet is washable and designed to last for seven days of use.
To keep the ScarAway sheet's adhesiveness, gently wash it every day.
Keep the sheet in a dry location.
Precautions: ScarAway Silicone Scar Sheets are not intended to be used on open wounds or diseased scars. If redness or itching occurs, stop the usage of Sheets.
Pros of ScarAway Silicone Scar Sheets
Easy to use and Lightweight
Self-adhesive
Prevents New Scar Formation
Comfortable to wear
Water-resistant
Diminishes Old Scars
Clinically supported scar treatment
Reduces Redness
Breathable and water-resistant texture
Comfortable, ultra-thin fabric
Cons of ScarAway Silicone Scar Sheets
Final Verdict
ScarAway Silicone Scar Sheets are a cost-effective option for scar treatment. It is a safe and effective way to make scars less noticeable. While some people may not notice a substantial difference, many others have experienced great benefits. Overall, ScarAway Silicone Scar Sheets are a great choice for people who want to make their scars seem better.
Frequently Asked Questions
How do wash ScarAway silicone scar sheets?
You should first clean silicone scar sheets with mild soap and warm water before reusing them. Give them a thorough rinse and allow them to air dry before using them once more. It is important to remember that silicone scar sheets may lose their adhesive qualities or wear out with time and frequent use. If this occurs, it is recommended to replace them with new ones for the best effects in reducing the look of scars.
How long does it take for silicone scar sheets to work?
Silicone sheets should be used continuously for at least 3-4 months. They should be removed every day for showering and then reapplied. The sheet should only be worn at night if irritation starts to appear or the scar is in a visible spot.
How long can you wear ScarAway silicone sheets?
You may experience benefits more quickly if the silicone comes in touch with your skin for a longer duration. Each sheet is durable for up to 7–10 days of use and washable. The lifespan of each ScarAway Clear Silicone Scar Sheet is up to ten days. The sheet doesn't need to be taken off for cleaning.