When it comes to getting smooth, hair-free skin, the Jovs Venus Pro II Hair Remover revolutionizes your hair removal routine.
Traditional techniques such as shaving, waxing, and epilation frequently cause discomfort, irritation, and short-term effects. This is where the Venus Pro II comes in, providing a painless and long-term solution.
Modern hair removal devices like the Jovs Venus Pro II Hair Remover use cutting-edge technology to give you salon-quality results at home.
The Jovs device is a one-time expenditure, whereas professional laser treatments often require numerous sessions, each with its own significant expense.
Full-body laser hair removal is highly expensive. The Jovs device, on the other hand, is a reasonably priced option that helps you to get long-lasting hair removal results.
This comprehensive review will go into the features, benefits, and experiences of this amazing device. Say hello to smooth skin without trouble or discomfort.
What is IPL?
IPL, or intense pulsed light, is a non-invasive method of hair removal that uses broad-spectrum light to address different skin issues. IPL treatment is a non-surgical method to enhance the tone and texture of the skin. It makes your skin look clearer, more even, and younger. IPL provides a more long-lasting treatment for unwanted hair than common techniques like waxing, shaving, or depilatory lotions.
How does IPL hair removal work?
IPL targets and destroys hair follicles under the skin's surface using high-intensity light pulses. The melanin in the hair absorbs the strong light, which results in a buildup of energy that eventually becomes heat. This heat harms the hair follicle and prevents new hair growth.
IPL vs. Laser Hair Removal
IPL and laser hair removal are sometimes confused, although they are not the same. IPL uses a wide range of light wavelengths, whereas laser hair removal uses a single, focused wavelength of light to target the hair follicles in both techniques. This basic difference influences their efficiency and compatibility for diverse skin and hair types.
Jovs Venus Pro II Hair Remover Review
Product Details
JOVS Venus Pro II is the best hair removal solution for getting rid of unwanted body hair. The JOVS hair removal device is intended for use at home and is appropriate for all skin tones except naturally dark skin.
This is not a typical laser hair removal tool. Instead, it makes use of the most recent IPL technology to give you silky, smooth skin for extended periods of time.
You can treat your full body in about 7 minutes. It guarantees a painless treatment. Men can also use it to get rid of hairs, acne scars, or age spots on their chest, back, thighs, stomachs, arms, and legs.
IPL hair removal device has superior long-term results than laser hair removal methods. It lasts longer and is more durable, pleasant, and handy. We advise you to try the Venus Pro II device if you are thinking about laser hair removal tools or a laser razor.
Shop the JOVS Venus Pro II Here.
In the JOVS Venus Pro II box:
Venus Pro IPL device
Razor
Safety Glasses
US Plug
User Manual
Guide Card
Key Features of Jovs Venus Pro II IPL Laser Hair Removal Device
OPT Technology:
The JOVS Venus Pro II IPL hair removal device is an updated IPL Permanent Hair Removal machine. It uses medical-grade constant pulse technology with optimal pulse technology (OPT), which is commonly used in the beauty industry to stop the cycle of hair renewal for permanent hair reduction for completely soft and hair-free skin. According to clinical studies, hair loss might reach 90% after 2 months of use.
ICE Cooling Head:
The JOVS Laser Hair Removal system includes a sapphire cooling mechanism that can immediately cool the light exit to 41°F, significantly minimizing the skin stimulation generated by the pulsed light. It is safer to apply it in sensitive places.
The cooling technology eliminates the need for gels, lotions, or ice packs, making hair removal a one-step process. It has a cooling head that is 12.1 cm2 in size, which offers enough coverage for quick and painless hair removal.
330° Rotating Head:
The JOVS Venus Pro II hair removal device's ergonomically designed irradiation head can swivel 330 degrees to accommodate any curvature, making it simpler to target difficult-to-reach places.
6 Function Modes & 6 Intensity settings:
Six separate settings for various body regions are available on the JOVS Pro II IPL hair removal device: face, arms, armpits, legs, bikini, and SR. There are 6 energy levels for each mode, and each level can be changed to fit different skin sensitivities.
The pulsed light is effective at the right wavelength and power for the characteristics of the different skin layers. It effectively stops hair regrowth by deeply penetrating each hair root.
Unlimited flashes:
The auto-flashes option, which allows high-speed continuous shooting at the quickest flash interval of 0.7 seconds, allows for full-body hair removal to be finished in less than 10 minutes.
Benefits of Jovs Venus Pro II IPL Hair Removal
Long-Lasting Results:
The Jovs Venus Pro II attacks hair from the root, providing longer-lasting smoothness as opposed to shaving or waxing, which only produce temporary benefits. Following daily use of the device, users have reported delighting in hair-free skin for up to six weeks.
No more Ingrown hair:
A fast zap will get to the source of the problem and get rid of those annoying ingrown hairs.
Comfort:
Say goodbye to appointments and waiting rooms. You have the flexibility of doing hair removal treatments at your own pace, in the comfort of your own home, with the Venus Pro II Hair Remover. No more rushed procedures or schedule issues; just efficient hair removal on your terms.
Convenience:
The device is so well made! It is more comfortable to grip, and the compact head easily fits into various body parts. The product is well-described in the instructions and is a delight to use because of its style and appearance.
Cost-Effective Solution:
Purchasing the Jovs Venus Pro II Hair Remover is a long-term investment. With this tool, you may experience flawless skin without having to worry about ongoing costs thanks to a one-time investment.
Precise Treatment System:
JOVS recommends a dedicated mode for each part of the body and provides the most effective energy spectrum for removing hair precisely, painlessly, and without causing any damage to your skin.
Clinically Proven and Safe:
The Venus Pro II does not disappoint when it comes to safety. Clinical testing has proven this device to be both safe and efficient for at-home use.
First Impressions
The JOVS Venus Pro is packaged in a huge emerald-green and gold cardboard box. Except for the bubble wrap and inflated plastic padding to protect the kit contents, the majority of the packaging is recyclable cardboard.
Using the gold ribbon tab, raise the cover of the smaller power attachment compartment. The little green user manual booklet is on top. A substantial mains power supply line is located below that.
The big green box is well-organized and exquisitely finished. The mild textured paper covering, the gold ribbon accents, and the green and gold design are all appealing to me. It has an upscale look and feels polished and professional.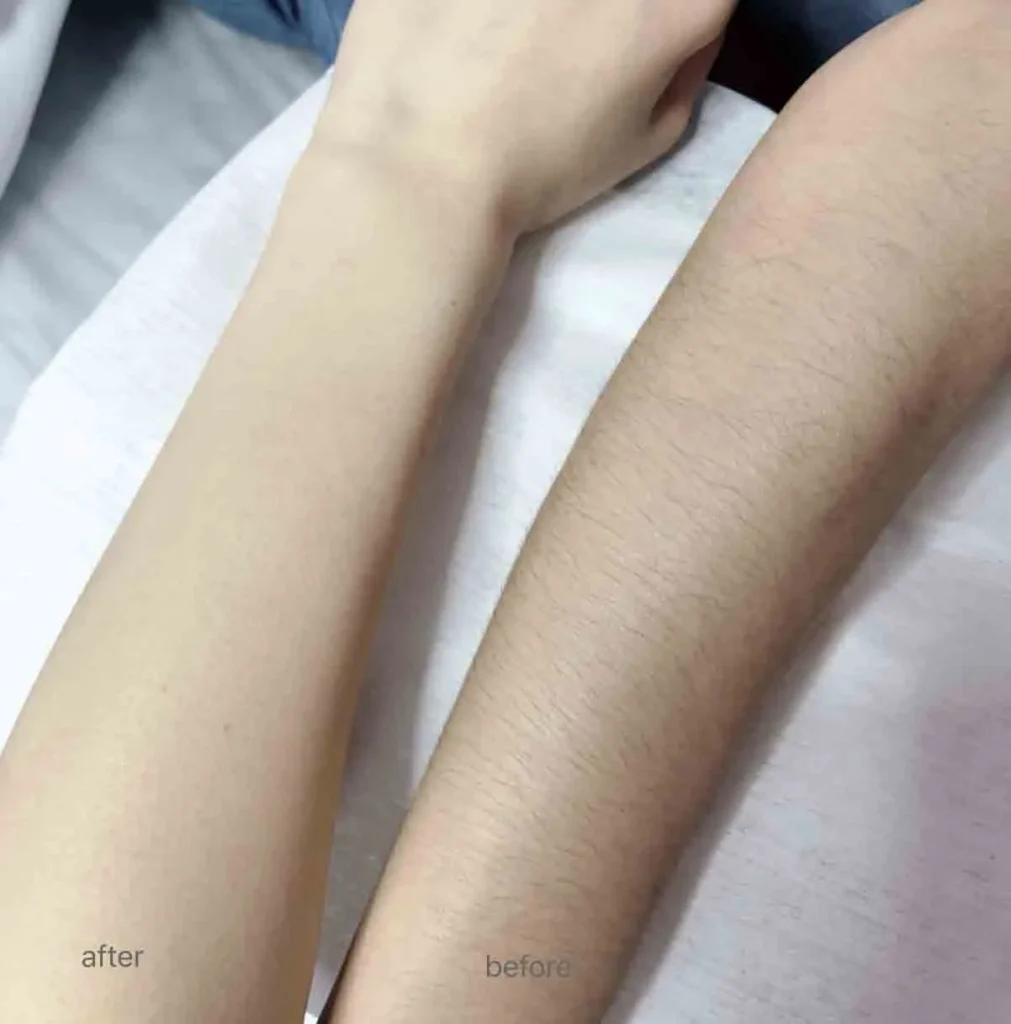 My Experience with Jovs Venus Pro II IPL Hair Removal
I purchased this IPL device because I was sick of constantly having to spend a lot of money and time trying to make my legs and bikini area look great. I therefore researched the best at-home IPL devices.
Although I can't afford to purchase items that are too costly, I also don't want to purchase items that are too inexpensive, and I've seen a number of advertisements for at-home laser hair removal. I have done my research and read a ton of reviews before choosing Jovs.
Since I've been using this for four months, I've stopped stressing over whether to shave or leave hair on my legs before going out. After using it once each week after shaving, I saw benefits after a month.
IPL devices function differently for different skin and hair types, thus this review is for fair to medium-skinned people with dark hair.
I have almost 99% hair reduction on my hands and legs after five weeks of treatment; the only hairs that reappear are small places that I obviously missed. My upper lips and underarms have probably lost 70% of their hair.
The JOVS is a stunning device that is painless to use and has the wonderful function of automating flashes so you don't have to manually press a button for each flash.
You can select the treatment area, the intensity, a filter if necessary, and the automated mode. The head rotates to reach the desired angle.
Using its skin regeneration mode, we can achieve salon-quality smoothness without bumps, stubble, or discomfort. In addition to removing my undesirable thick black hair, it tightens up my skin.
It provides comfort via cooling, which enhances the experience. The instructions are very easy to follow, and their website even offers assistance if you need it.
The price of this IPL device is far higher than some of the cheaper IPL devices, but it also includes the "ICE" cooling functionality, settings, and a more practical gun design, which is my choice for these IPL devices.
Additionally, this device has a 60W power output, which is at the high end for these home IPL tools. This may lead to improved performance.
It will be simpler to use than previous IPL devices thanks to its ergonomic design, spinning head, and 6 various modes. Due to the quick flash feature, we discovered that you can easily finish a whole-body session in 10-15 minutes.
You should give this product significant consideration if you're seeking a salon-level, simple-to-use, lightweight IPL laser with active cooling.
Hair removal tips for various parts
Armpits
The skin should be clean and free of any moisturizer, deodorant, antiperspirant, or perfume prior to treatment. Before putting the treatment surface on the skin, make sure the skin is spread uniformly and smoothly. It is typical to have a few minor burns.
Bikini lines
In regions where pigment builds up or for skin tones with a darker color, use lower energy levels. Before your skin adjusts, start with level 1.
Arms and legs
In uneven or close to your bone areas, you might just experience minor pain.
Do not use on these parts of the body
Avoid tattoos, areas around your eyes, freckles, frostbite, and areas where you have burn injuries. After your treatment, you should wait 48 hours before going outside again. Although it is not recommended, if you must venture outside following treatment, be sure to wear sunscreen.
How to Use Jovs Venus Pro II IPL Hair Removal
Step 1: Shave the hair from the target skin area with a razor, then adequately cleanse the area.
Step 2: Insert this device into a wall outlet to reveal a light loop on the top. Select the gear energy position after turning the machine on.
Step 3: Start the cooling mode automatically and set it to the desired mode. Put the device on your skin vertically while wearing goggles and activate the flashlight.
Step 4: To restore the skin's smoothness after hair removal, choose SR mode and illuminate.
Where to purchase Jovs Venus Pro II IPL Hair Removal?
When deciding where to get the Jovs Venus Pro II IPL Hair Removal device, it is best to go with the official website, Jovs.com, rather than Walmart, Target, Amazon, or any other website.
The affordable pricing offered by Jovs.com is one strong reason to choose it. In comparison to other platforms, the official website constantly offers the device at a more affordable pricing point.
In addition to guaranteeing that you are getting the most for your money, this also makes sure that the product is real and that you can access manufacturer warranties and dependable customer support.
Final Verdict
Jovs Venus Pro II Hair Remover is the best way to remove unwanted body hair permanently. It is a quick, painless, and effective way to get silky-smooth skin. It has established a new benchmark for at-home hair removal thanks to its cutting-edge IPL technology, adjustable settings, and user-friendly design. So there is no need for the hassle and discomfort of typical hair removal techniques.
Say goodbye to the headaches of shaving and waxing and hello to the simplicity and efficacy of the Jovs Venus Pro II.