How would you react if someone requested you to straighten their synthetic wig? Would you say no or perhaps laugh at them?
You undoubtedly already know how much time and work goes into styling a wig if you've ever worn one.
And if you haven't tried wearing a wig before, then let me tell you – they look fantastic!
They allow you to wear any hairstyle you like without worrying about causing hair damage.
However, wigs aren't always easy to shape and straighten. Some styles require special techniques to achieve the perfect look. This article explains how to straighten a synthetic wig for a perfectly glossy appearance.
Make sure you are selecting the best straightening process for synthetic wigs to do everything you can to protect your synthetic wig.
What are synthetic wigs?
Synthetic wigs are made of plastic, which is troubling to many people when straightening them. In contrast to natural hair, synthetic fibers can burn or char when heated, leading to damage.
So, if you have a heat-friendly synthetic wig, you can use a flat iron, hot comb, and straightening brush to flatten it synthetic wig.
But it is possible to carefully straighten synthetic wigs without damaging their wig.
Therefore, if your wig is not heat resistant, you must use a hair dryer, hot water, or steam method to straighten a synthetic wig without heat.
How to Straighten a Synthetic Wig
There are several methods to straighten a synthetic wig. Here is a list of them:
Flat Iron Method
Hot water method
Steaming
Hot Comb
Hot Brushes (Straightening Brush)
Blow-dry
How to straighten a heat-resistant synthetic wig
Method 1: Straighten a synthetic wig with a Flat Iron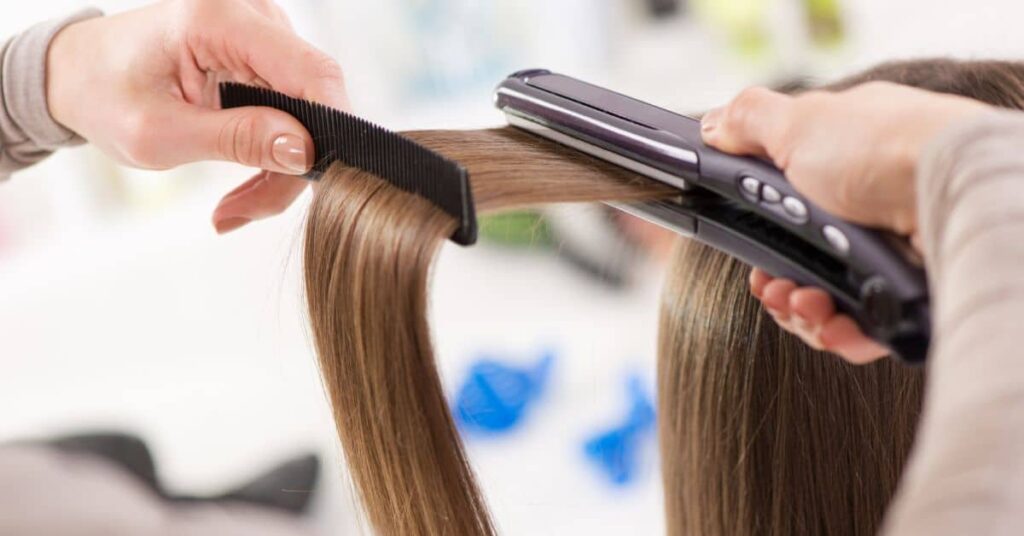 The flat-iron method is only suitable for heat-resistant synthetic wigs. You can either do a heat test or verify with the manufacturer to see if your wig is heat resistant.
Do not use this procedure if the synthetic hair wig cannot handle the heat.
We all know that plastic synthetic hair and a hot flat iron can easily harm these polymers. That implies that we should take greater caution while wearing straight synthetic hair.
Synthetic wig fibers cannot survive the high heat produced by hair straighteners, in contrast to human hair wigs.
Unless you have a heat-resistant wig, using a straightener to straighten a synthetic wig will permanently damage the hair fibers.
Instructions:
Step 1: Plug the flat iron in and let it warm up. The most crucial step in flattening a synthetic wig is to regulate the straightener's heat to prevent the hair from melting and sticking together and lower the heat setting as much as possible.
Step 2: Softly brush the hair from the bottom to the top. To keep your hair moisturized and silky while protecting it and making it look shining, spritz some hairspray or use some hair gel.
Step 3: Make a high bun with the hair after brushing it all, beginning at the back of the hair. Take out a little bit of hair with the tip of a tiny comb. After lightly moisturizing the area, gently comb it, then start using the flat iron from the roots.
Step 4: As you continue to section off the hair, use the flat iron to smooth each part until it is as straight as you desire.
Method 2: Straighten a synthetic wig with Hot Comb
When using a hot comb to strengthen the wig, place it on a wig stand and comb out any tangles and knots on the wig.
After that, attach the wig to the head with a straight pin to prevent it from slipping off while wearing it.
After parting the hair into small portions, use the hot comb to comb through the hair until all of it is straightened.
It is always best to use the heated comb on dry hair because it functions like a flat iron, which you should never use on damp hair!
Styling damp hair at high temperatures makes it more prone to harm.
You won't get the intended effects and will harm your hair by straightening wet hair.
Method 3: Straighten a synthetic wig with Hot Brush (Straightening Brush)
To flatten a synthetic wig using a heated brush, place it on a styrofoam wig head and secure it with pins. Then, using a wig brush to rub the hot brush through the wig thoroughly, untangle it from the bottom up.
If you're curious about how to straighten a wig, try the following technique to give your hair a new look. However, you'll need to use a straightening brush to straighten the hair if the wig hair quality is good.
Using a hot brush should often be the simplest method to learn how to straighten a synthetic wig.
Instructions:
Step 1: On a Styrofoam wig head, place a wig. You'll need to install it on a stand to allow the hair to hang freely if your wig is long.
Step 2: Put the wig on and firmly fix it by inserting sewing pins into the styrofoam head.
Step 3: To ensure it doesn't move when you begin brushing, secure it at the temples and all around the head.
Step 4: Brush your wig with a wide-tooth comb and spritz it with a heat protectant. Working in small parts at a time, gently push the brush through the hairs.
Step 5: Begin at the bottom and work your way up, running the comb through carefully. Continue combing with the hairbrush until your hair is straight.
Read More: 11 Best Blonde Lace Front Wigs – Buying Guide
How to straighten synthetic wig non-heat resistant
Consider purchasing a straight wig if your synthetic wig is not heat resistant and having the choice of straight hair is crucial to you to prevent damage to your present wig.
Heat applied to synthetic wigs may cause the hair to singe and melt, a costly error to fix.
There are various alternative methods to straighten synthetic wigs that aren't heat resistant if you want to try that first.
Method 4: Straighten a synthetic wig with Hot water
A pan of water should be heated between 160 and 180 degrees while your wig is gently placed in the sink or bath after being brushed. Do not comb the wig while wet, as this could damage it. Instead, pour the water over the wig. The wig should air dry straight.
The hot water method is the best way to straighten a non-heat resistant synthetic wig. Hot water may quickly and easily straighten a curly synthetic wig.
If you don't have any style tools, this method is perfect. Here's a full explanation of how to use the hot water method.
Step 1: First, place your synthetic wig on a wig holder. After that, detangle any tangles and knots using a wide-toothed comb.
Step 2: Boil the water in a kettle on the stove. To acquire enough water to cover the wig, try using a big pot based on the length of the hair.
Step 3: Pull the wig out of the saucepan after dipping the entire thing in for 10 to 15 seconds. Reposition the wig's top to the stand.
Step 4: You can use your fingertips to carefully remove any tangles you find. Considering that using a comb will harm the wig.
Step 5: Dry your wig using a hairdryer on the "cool" setting.
Step 6: If necessary or the hair is not as straightforward as you want, repeat the procedure.
Method 5: Straighten a synthetic wig with Streaming Method for Gentle Straightening
Steaming is another suitable method to straighten a non-heat resistant curly synthetic wig. The steam method flattens a synthetic wig quickly, easily, and effectively.
Here is a step-by-step guide on the steam method.
Step 1: Use a wig brush to remove tangles from your wig after placing it on a wig stand. Start your portable steamer as you brush the wig.
Step 2: You can begin the straightening procedure once the handheld steamer is heated and ready. Gently comb over portions of your hair with a steamer trailing closely behind it while holding a comb in one hand and a steamer in the other.
Step 3: Ensure not to leave the steamer on the wig for an extended period, as this could harm the fibers.
Step 4: Apply steam to each area of the wig. When the texture wig is as straight as you like it, keep doing this.
Step 5: After finishing, let the wig air dry.
Step 6: Comb it after drying to give it a beautiful shine. Do this repeatedly until you are happy with the results.
Method 6: Straighten a synthetic wig with Blow-Dry for extreme straightening
While having to blow dry and gradually brush it straight down, run a comb through the untangled hair. Wig strands should be kept in between the dryer and the brush.
When blow-drying the wig, use a low heat setting and carefully remove any curls or tangles using a round brush.
The wig hair fibers will melt if your dryer only has a hot setting, damaging them permanently. Blow-dry the hair until it is totally dry while keeping the drier at a safe distance from the hair.
Instructions:
Step 1: Gather all of your hair except the bottom section into a messy bun at the top and secure it with a hair clip.
Step 2: To cool the fibers and keep them from overheating, mist the bottom layer with water.
Step 3: You can choose to begin at the temples and move gently around the head. Pass your fingers through each tangle as you straighten out the strands.
Step 4: You can also smooth down the synthetic hairs with a wide-toothed comb or a wire wig brush.
Step 5: Choose a warm heat setting for the hairdryer. Then simultaneously move the hairdryer and comb/brush downward.
Conclusion
Therefore, knowing how to straighten a synthetic wig at home is simple and can help you avoid wasting time and money visiting a hair salon. Synthetic wigs can be styled in various ways to express your style, and their styling is more durable.
But you may use heat to restyle your wig and get more use. Keep in mind that by doing so, you risk harming the wig and permanently altering its style.
So, pick up your preferred straightening technique and get styling.
Frequently asked questions
What temperature should I flat iron my synthetic hair?
180°F is the ideal flat iron heat for synthetic hair. The perfect temperature for your synthetic fibers is somewhere about 180°F. Any higher than that could harm them. We advise starting at a lower temperature and gradually increasing it to 180°F.
How can I make my synthetic wig look real?
Dry shampoo will make the hair appear matte and help a synthetic wig look more realistic. The hair can also be sprayed with a liquid fabric enhancer and cold water solution in equal parts to give it a vibrant appearance while keeping its shape.
What if my synthetic wig is not heat resistant?
Consider purchasing a straight wig if your synthetic wig is not heat resistant and having the choice of straight hair is crucial to you in order to safeguard against damage to your current wig.
How do I make my wig stand?
Making your wig stand is also possible by inserting a wooden stick into a wood table with a hole drilled through the center of it.