When it comes to achieving a perfect makeup look that lasts all day, a good primer is a must-have in your beauty arsenal. The e.l.f. Jelly Pop Dew Primer might be your best bet if you're looking for a primer that not only prepares your skin but also gives it a dewy and moisturized glow.
e.l.f. Jelly Pop Dew Primer is a popular beauty product that has gained attention for its unique jelly-like texture and hydrating properties. In this article, we will look at the review of Elf Jelly Pop Primer, its ingredients, pros, and cons, and compare it with other popular primers in the market.
Elf Jelly Pop Dew Primer Review
Product Overview
e.l.f Cosmetics Jelly Pop Dew Primer has a watermelon-scented gel consistency. It contains skin-saving ingredients such as hyaluronic acid, niacinamide, and vitamins A, C, and E, which help to seal in moisture, reduce pores, and nourish the skin.
This gel primer helps to brighten your skin while moisturizing and smoothing your skin and gripping makeup to keep it in place.
e.l.f. Jelly Dew Primer is a lightweight, silicone-based primer that provides a burst of hydration to the skin while creating a radiant and dewy look.
e.l.f. Jelly Pop Dew Primer Ingredients
Water (Aqua), Glycerin, Citrullus Lanatus (Watermelon) Fruit Extract, Peg-150 Distearate, Butylene Glycol, Polysorbate 80, Retinyl Palmitate (Va), Sodium Ascorbyl Phosphate (Vc), Niacinamide, Sodium Hyaluronate, Peg-240/Hdi Copolymer Bis-Decyltetradeceth-20 Ether, Phenoxyethanol, Pentylene Glycol, Ethylhexylglycerin, Caprylyl Glycol, Potassium Laurate, Fragrance (Parfum), Tocopherol (Ve), Disodium Edta Red 40 (Ci 16035)
Key Ingredients:
Watermelon Extract: Known for its moisturizing and soothing properties, watermelon extract is a star ingredient in the e.l.f. Jelly Pop Dew Primer. It helps to seal in moisture, leaving your skin feeling cleansed and revitalized.
Hyaluronic Acid: Hyaluronic acid, a skincare powerhouse, is essential in the e.l.f. Jelly Pop Dew Primer. Because it can store up to 1000 times its weight in water, it provides excellent hydration and plumping effects. This gives the skin a smoother texture and a more youthful appearance.
Glycerin: Glycerin, a humectant, draws moisture from the environment and helps in maintaining it in your skin. It provides long-lasting hydration and shields against dryness.
Niacinamide: Niacinamide, generally referred to as vitamin B3, has many benefits for the skin. It helps enhance skin tone and texture, minimize pore size, and lessen excessive oil production. Niacinamide, which is present in the e.l.f. Jelly Pop Dew Primer, contributes to its overall effectiveness and skin-improving qualities.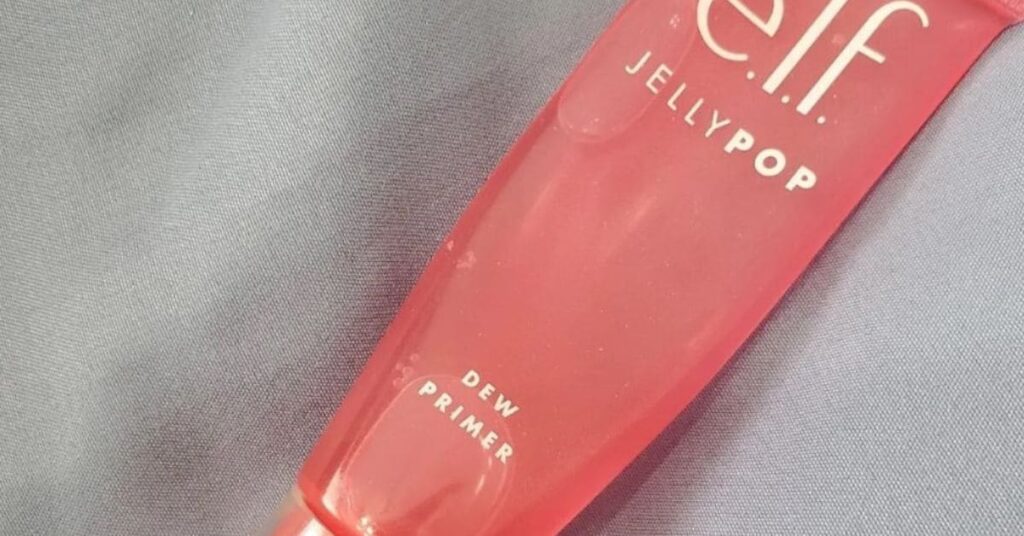 My experience with e.l.f. Jelly Dew Primer
I was first hesitant, but the e.l.f. Jelly Pop Dew Primer just blew me away. Despite being lightweight, it controls my oily skin throughout the day. My makeup looks beautiful, and I enjoy the cooling sensation when I apply it. It's become a crucial part of my makeup routine.
The Jelly Pop Dew face primer from e.l.f. is my absolute favorite! It gives my skin a sudden burst of hydration and gives me the ideal canvas on which to apply makeup. My foundation applies easily and doesn't budge during the day. The dewy finish gives me the healthy glow I've been looking for.
Although I've used a lot of primers, the Elf Jelly Pop Primer is better. It not only minimizes my pores but also gives my skin a lovely glow. My makeup looks and lasts so much better now.
It is ideal for hot summer days or whenever you need a little more moisture because it feels light and cool on the skin. The solution absorbs quickly into the skin and leaves a little shimmer behind that helps to hide imperfections and balance out skin tone.
Despite the fact that most people with oily skin like a matte finish, this elf gel primer gives the skin a radiant sheen. It also prevents your skin from looking oily. Therefore, I primarily suggested it for people with oily or combination skin.
The primer doesn't feel overly heavy on the skin, which is the first thing I noticed after using it. It feels very softly dewy forever. Don't confuse this primer with tacky; it doesn't feel sticky or gummy at all. Instead, your face will seem and feel well-hydrated.
This primer is very unique, giving a moisturizing and refreshing formula that offers a soft and dewy base for applying makeup. It's an excellent, affordable dupe to Milk's Hydro Grip primer.
Packaging
The elf dewy primer is packaged in a vivid red, translucent tube with a pump. The tube contains one ounce of primer. The package is simple, with a pump and lid on the bottle to prevent spills in your cosmetics bag. It comes packaged in a durable tube that is convenient for travel. The tube makes it simple and hygienic to dispense the product.
Consistency
The e.l.f. Jelly Pop Dew Primer has a jelly-like texture that feels light and hydrating on the skin. It is a water-based primer with quick absorption that leaves a moisturized and smooth finish for applying makeup. The jelly-like texture gives the beauty regimen a fun and lighthearted touch.
Fragrance
The e.l.f. Jelly Pop Dew Primer has a subtle and pleasant watermelon smell. The mild scent enhances the primer's overall refreshing effect. It does have a potent watermelon candy scent, which I found to be nice but may bother sensitive people.
Compatibility with Different Skin Types
Normal to Dry Skin: The e.l.f. Jelly Pop Dew Primer will completely transform your skincare routine if you have normal to dry skin types. Because of its moisturizing qualities, it keeps your skin moisturized all day long, preventing any dryness or flakiness. Your complexion gains a healthy shine from the dewy finish, making it appear radiant and plump.
Combination Skin: The e.l.f. Jelly Pop Dew Primer is capable of managing combination skin, despite how difficult it can sometimes be to do so. Its lightweight formulation balances oil production in the T-zone while giving your face's dry areas plenty of moisture. You can experience a long-lasting smooth and balanced complexion.
Oily Acne-prone Skin: The e.l.f. Jelly Pop Dew Primer can perform wonders even if you have oily skin. Its pore-minimizing technology also manages excess oil, giving your skin a more matte and polished look. The moisturizing ingredients balance your skin without adding shine. Also, it didn't break out acne-prone skin.
Sensitive Skin: The e.l.f. Jelly Pop Dew Primer is also helpful for people with sensitive skin. It is dermatologist-tested and free of irritating ingredients like phthalates, sulfates, and parabens. However, like with any new product, patch testing is required before full-face application to assure compatibility.
Sale
Pros
Vegan and Cruelty-free
Absorbs easily without leaving me feeling oily
Very affordable
Good watermelon smell
Travel-friendly packaging
It leaves a radiant, dewy finish
Gel texture primer
Extends the wear time of makeup
Blurs pores effectively
Cons
Smells heavily of watermelon, which may bother sensitive users.
e.l.f. Jelly Dew Primer Dupes
MILK MAKEUP Hydro Grip Primer
Milk Hydro grip primer not only moisturizes your skin but also adheres to makeup. This oil-free, water-based primer applies clear to the face to produce a flawless foundation for makeup while maintaining dewy skin and long-lasting makeup that won't melt off or fade. It is a silicone-free, 94% natural primer. It's formulated with blue agave extract and cannabis seed derived from hemp to make sure your foundation lasts and your skin feels great all day.
Smashbox Photo Finish Primerizer Moisturizing Primer
Smashbox Photo Finish Primer is another great primer to use if you're looking to be makeup-free or just require one for BB cream. A moisturizing primer that protects skin and enhances makeup with a fresh, dewy finish. The silicone-free formula restores the skin's natural moisture supply for a smooth, supple, and radiant appearance.
Tatcha The Silk Canvas
Tatcha's The Silk Canvas is a high-end primer recognized for its silky texture and pore-blurring qualities. It smooths out the surface for makeup and lengthens the time it stays on. The Silk Canvas has a more matte look in comparison to the e.l.f. Jelly Pop Dew Primer's radiant and dewy appearance. Tatcha's choice is more expensive, while the e.l.f. Jelly Pop Dew Primer offers a more affordable choice without compromising effectiveness.
Final Verdict
Overall, I strongly recommend the Elf Cosmetics Jelly Pop Dew Primer. It fulfills its claims by giving a moisturizing and revitalizing foundation for makeup that leaves a luminous, dewy look behind. This product is worthwhile to try out, regardless of whether you enjoy wearing cosmetics or just looking for a trustworthy primer. For anyone with oily skin or a combination complexion who wants to prolong the use of their foundation, E.L.F. Jelly Pop Dew Primer is a fantastic choice!
Frequently Asked Questions
Is e.l.f. Jelly Pop Dew Primer suitable for mature skin?
Yes, the e.l.f. Jelly Pop Dew Primer is appropriate for skin types of all ages, including mature skin. Its moisturizing characteristics might help to plump and smooth the skin's texture.
Can e.l.f. Jelly Pop Dew Primer be used alone without makeup?
Absolutely! The e.l.f. Jelly Pop Dew Primer can be applied alone to give your skin a hydrated, dewy appearance. It is a great choice for a natural, "no-makeup" makeup look because it imparts a light glow and hides flaws.