Wrinkles are a common sign of aging, but they can make you self-conscious about how you look. There are numerous treatments available; however, not all of them are beneficial.
A well-known wrinkle solution called Dr. Sevinor Wrinkle Solution claims to make wrinkles and fine lines look less noticeable.
In this post, We will discuss Dr. Sevinor Wrinkle Solution Reviews, what it is, how it functions, and whether or not it is worthwhile to try. Get on reading!
About Brand
Dr Sheldon J. Sevinor, the founder of Dr. Sevinor Skincare Solutions is a retired plastic surgeon. After retiring, the doctor began creating cutting-edge skincare formulas.
Dr Sevinor Wrinkle Solution Review
Product Details
The wrinkle cure by Dr. Sevinor is an instant wrinkle-smoothing serum that offers aging skin the appearance of a temporary lift. Lines and wrinkles fade within minutes, and the skin seems softer and more lifted.
It contains tightening and plumping ingredients that enhance moisture levels in the skin, giving it a youthful, active, and healthy appearance.
This wrinkle treatment keeps the skin appearing soft and silky and can target noticeable wrinkles including frown lines, nose-to-mouth lines, and crow's feet.
This instant gratification formula helps to tighten the skin, giving the appearance of lifted and smoother skin. It is made for all skin types, including dry, normal, and oily.
Price
$74.95 for 1 FL OZ
Dr Sevinor Wrinkle Solution Ingredients
Water, Magnesium Aluminum Silicate, Sodium Citrate, Sodium Silicate, Sodium Hyaluronate, Glycerin, Caprylyl Glycol, Camellia Sinensis Leaf Extract, Phenoxyethanol, Aminobutyric Acid, Hexylene Glycol, Sodium Polyaspartate, CI77499, CI 77492, CI77891, CI77491, Xanthan Gum.
Ingredient Analysis:
Sodium Silicate: It is typically used to regulate the pH value in skin care products. In order to tighten the skin, sodium silicate forms a layer that gives the appearance that wrinkles are disappearing. It has the ability to tighten and firm the skin.
Magnesium Aluminum Silicate: Due to the high pH of sodium silicate, a thickener Magnesium Aluminum Silicate is used for lowering the pH.
Glycerin: Its humectant properties hydrate the skin, which alleviates skin dryness. The Dr. Sevinor Wrinkle solution contains glycerin to treat dryness, which is the main cause of wrinkles. Glycerine smoothes, tightens, and makes the skin look young and vibrant on mature, aged skin. It lessens skin irritation and redness while keeping your skin nourished and silky.
Sodium Hyaluronate: It keeps the skin moisturized and works great as a humectant. The ingredient completely fulfills the needs of an anti-aging product by replenishing the skin's lost moisture and protecting the skin from every sign of aging.
Camellia Sinensis Leaf Extract: It is often known as Green tea leaf extract, which fights wrinkles and encourages cell renewal. Green tea is high in antioxidants, which prevent skin aging.
Caprylyl Glycol: Another humectant used in the formulation of the Dr. Sevinor Wrinkle Solution is caprylyl glycol. It deeply moisturizes and hydrates the skin to get rid of dryness and dullness. By giving the skin proper hydration, the ingredient reduces the effects of aging.
Phenoxyethanol: It works as a preservative, extending the product's shelf life.
Hexylene Glycol: Its capacity to enhance texture makes it beneficial in skin care formulations. Due to its viscosity-reducing properties, it can thin out heavy, thick formulas and create smooth spreadability.
Aminobutyric Acid: It (GABA) is an amino acid that can help lower wrinkle visibility. Moreover, it relaxes and softens the skin while minimizing wrinkles. It is stated that aminobutyric acid cleanses the skin and stimulates collagen production.
Sodium citrate: It is generally used to regulate a product's pH level.
Xanthan Gum: It is used as a texture enhancer and thickening agent. Xanthan gum can restore skin hydration, stop moisture loss, reduce wrinkles, and slow down the aging process.
What the Dr Sevinor Wrinkle Solution claims:
Instantly provides a temporary lift to aging skin.
Smoothed away wrinkles and lines in minutes.
Helps to tighten the skin.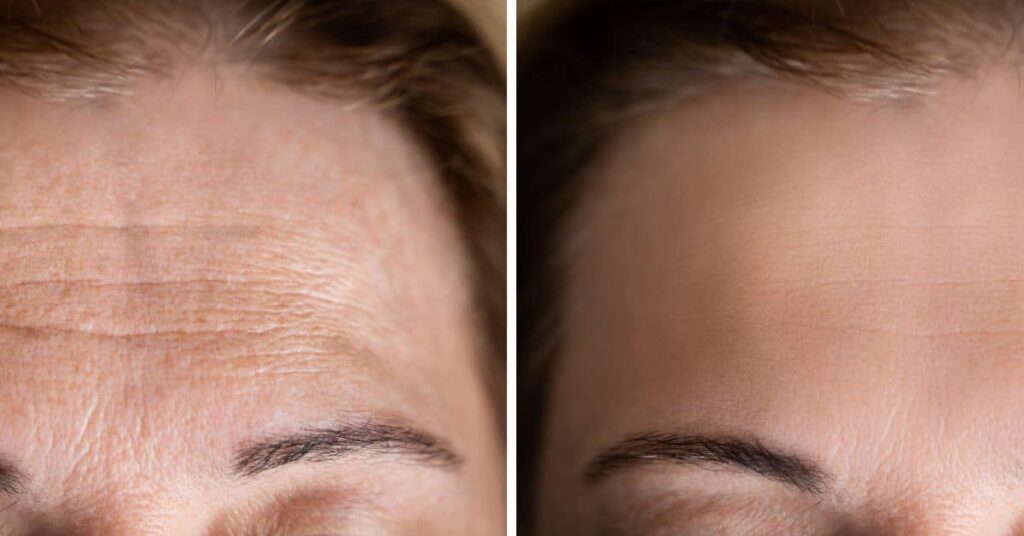 My experience with Dr Sevinor Wrinkle Solution
At first, I wasn't sure if I should buy Dr. Sevinor Wrinkle solution. Nonetheless, I now consider it to be one of the best decisions I have ever done. My wrinkles have greatly diminished after using the cream for a month.
Despite my worries that it might be a fraud, I bought the cream anyhow because it was reasonable. I don't believe any other wrinkle cream at this price point can accomplish this. The lack of manufacturer information is what makes me doubtful.
I have to admit that using the Dr. Sevinor Wrinkle Solution significantly decreased my wrinkles. This affordable wrinkle cream is non-greasy and doesn't dry out the skin on the face.
However, it does take a few seconds to blend thoroughly into the face, and as per the directions, you must wait for the cream to dry before using any makeup.
I do start out with a little moisturizer. I shake it up as directed and apply a small amount to each wrinkled area, including the area beneath my eyes. I also enjoy using it on my eyelashes, forehead, etc.
I rarely need anything else; all my skin needs is a little bronzer and loose powder. It gives the skin a softer look and reduces the appearance of wrinkles.
Also, it seems to improve the application and longevity of my makeup. Although people have always complimented my skin, they claim that I don't appear to have any wrinkles at all.
It is quite simple to use; just softly dab a tiny coat where you want to see it to avoid making a cakey mess. Even while the product does produce benefits right away after use, they don't endure all day.
Despite the fact that the manufacturer states that the product remains on until removed, I was unable to apply it in the morning and return home after work to observe the same results. After a half-hour or so, it really started to let go of the lift.
Also, it is advised against using moisturizer either before or after using the product. Moisturizer is required for mature skin. The skin feels dry after using this serum.
How Does Dr.Sevinor Wrinkle Solution Work?
Dr.Sevinor Wrinkle Solution has instant gratification formula. This treatment combines skin-tightening and plumping ingredients that rapidly lift the skin and even out lines, wrinkles, and deep pigmentation. It is designed for older skin with aging concerns.
Use a tiny amount of the product twice daily, preferably in the morning and evening, to the skin's affected regions. The product focuses on wrinkles that are frequently seen, such as frown lines, crow's feet, eye bags, and nose-to-mouth lines.
How to use Dr Sevinor Wrinkle Solution
First, wash your face with a gentle cleanser, then pat your face dry completely.
Make sure your face is clear of any objects because the wrinkle treatment functions best on a dry, clean face.
Although it is not advised, if your skin is dry, dab a small amount of moisturizer on your face and thoroughly rub it in.
Before applying, gently shake the Dr. Sevinor Wrinkle Solution. Then, apply a small bit of the cream using a squeezer to the back of your hand and massage it upward with a finger.
Let the cream dry on your face without moving for 2 to 3 minutes. You might feel a little tightening, but that's quite normal. After using, securely cap the cream.
Pros of Dr Sevinor Wrinkle Solution
Reverts the signs of aging
Moisturizes the skin
Easily absorbed into the skin
Brightens the skin
Replenishes the youthful look
Lightweight formula
Reduces inflammation
Reduces the wrinkles
Can use makeup after application
Cons of Dr Sevinor Wrinkle Solution
The product is quite expensive.
Dr. Sevinor Wrinkle Treatment does not have an official website.
Final Verdict
Dr.Sevinor Wrinkle Remedy is an immediate wrinkle solution serum. It hydrates the skin while reducing wrinkles. The wrinkle cream's moisturizing effects last for a significant amount of time, and it swiftly absorbs into the skin, leaving it soft and smooth.
Dr. Sevinor Wrinkle Treatment will help you look younger by giving your skin a radiant shine. Thus I would suggest this cream to anyone who wants to enhance their looks and reverse the effects of aging.