There are many choices on the market for lip care products. Choosing the one that will have the desired benefits can be challenging.
Dry and cracked lips not only look unattractive, but they can also be uncomfortable and irritable. That is why choosing a lip treatment that effectively hydrates and plumps the lips is essential.
In this review, we will go into the Clinique Moisture Surge Lip Hydro-Plump Treatment details, research its formulation and ingredients, and provide an unbiased assessment of its effectiveness.
Continue reading to learn if this product is right for you if you're looking for a lip treatment that will give you the hydrated, plump lips you want.
Clinique Moisture Surge Lip Hydro-Plump Treatment Review
Product Details
Clinique Moisture Surge Lip Treatment provides powerful plumping hydration for both day and night. This multi-tasking treatment prepares lips for soft, glossy lips while smoothing and reducing dryness.
This Clinique Lip Hydro-Plump is made with lip-loving components like lipids, shea butter, and ceramides. Clinique Moisture Surge's lightweight gel formula instantly moisturizes the skin.
Price
$20.00 for 0.34 FL. OZ. (10 ml)
Buy Here.
Clinique Moisture Surge Lip Hydro-Plump Treatment Ingredients
Petrolatum: It is known as Vaseline or Petroleum Jelly, and it continuously moisturizes the lips, nourishing dry lips all day long.
Hydrogenated Polyisobutene: It functions as an emollient and a waterproofing agent. It lessens moisture loss, preserves the skin's natural moisture barrier, and improves product texture.
Tocopheryl Acetate: The most prevalent type of pure vitamin E is utilized in cosmetics. It combats free radical damage and helps skin healing to decrease aging signs.
Silica: It is mostly used in skincare and cosmetic goods since it improves the feel and texture of formulations.
Hydrogenated Castor Oil: It helps to keep skin moisture by preventing water loss through the outermost layer of the skin.
Butyrospermum Parkii (Shea Butter): Shea butter, a natural butter, helps dry lips by forming a layer of protection and accelerating wound healing.
Ceramide NG: Ceramides are crucial for maintaining a healthy skin barrier and the moisture content of the skin.
Cholesterol: Cholesterol is used in cosmetics as an emollient and moisturizer to help soften and smooth the lips.
Caprylic/​Capric Triglyceride: It smoothes your skin and acts as an antioxidant to keep it healthy.
Tetrahexyldecyl Ascorbate: It is an oil-soluble, stable form of vitamin C for skin care. It gently lightens uneven skin and dark lips.
Caprylyl Glycol: It attracts water to the skin and holds it there, but it also has preservation qualities that could help other substances stay fresher for longer.
Palmitic Acid: When applied to lips, it conditions dry, chapped lips and helps in locking in moisture. It also offers a smooth, velvety touch.
My experience with Clinique Moisture Surge Lip Hydro-Plump Treatment
No matter how often I moisturize or hydrate, my lips remain chapped, cracked, and dry, but this Moisture Surge Lip Balm changed my life from the very first use. I've tried a number of lip balms, but one of the best is the Clinique moisture lip treatment. It moisturizes your lips for several hours while being gentle and non-sticky.
According to Clinique, this procedure also plumps the skin. Thankfully, Moisture Surge Lip lives up to its promise of providing a plumping effect while still being fragrance-free and free of any irritants commonly found in lip care products.
I've been using this Clinique Lip Treatment as an overnight lip mask as the final step in my bedtime skincare routine. I already have very sensitive skin and always dry lips that will peel and crack. It instantly calms and moisturizes. I generously use this at night, and in the morning my lips are soft, nourished, and plump. I can also comfortably wear lipstick and other lip products in the morning.
It moisturizes without being sticky. It just hydrates lips all the time while sitting on them like an unsticking lip gloss. It removed the flakes, unevenness, and dryness from my lips.
This Clinique Lip Plumper is the only lip balm I've used that left my lips feeling re-hydrated, and you don't have to re-apply it as frequently as other brands.
It gives my lips a smooth, silky appearance and feels plump without the sting of typical lip plumpers.
It lasts on my lips for hours, even when I wake up at night, and a little goes a long way. It made my lip scars and discoloration fade within a month. My lips are now soft, rosy, and plump. In my opinion, the price is worth it.
Formulation
The product is emollient and rich without being oily, sticky, or gooey. Clinique made an extremely gentle, nourishing lip treatment that may be used at any time, particularly overnight or to prepare lips for makeup.
I've mostly used it before bedtime, and my lips still feel moisturized the next morning. The petrolatum-based gel contains plant lipids, shea butter, and ceramides, which give it a pleasing consistency and a long wear period.
Packaging
The Clinique moisture lip treatment is packaged in a sweet small pink plastic tube with a screw-top lid and a white, rounded applicator tip. This tube makes it easier to apply directly to the lips. The clean and practical packaging makes it possible to apply the product precisely without using your fingers.
Consistency
The lip treatment has a gel-like consistency that is comfortable and light on the lips. It doesn't feel oily or sticky, which is a major advantage.
Fragrance
This product is well-known for being fragrance-free, which is ideal for persons with sensitive skin or who prefer unscented products.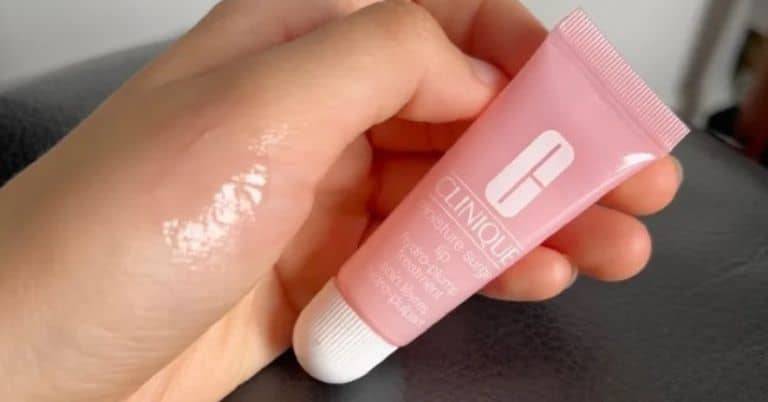 Pros
Paraben-free
Fragrance-free
Leaves lips feeling soft
Lasts well on the lips
Make lips feel protected
Dermatologist tested
Instantly moisturizes the lips
Provides plumping hydration
Cons
It feels a little sticky when applied too much product.
Final Verdict
In conclusion, the Clinique Moisture Surge Lip Hydro-Plump Treatment is a great addition to your lip care routine. It provides intense hydration, a plumping effect, and long-lasting effects. The non-greasy formula makes it easy to wear throughout the day. Whether you're looking to combat dryness or enhance the fullness of your lips, this product is worth a try.
So, why wait? Give your lips the moisture they need, and watch your smile grow more radiant than ever!
Sale