Bubble is a Korean skincare firm that provides many products to help you achieve healthy, beautiful skin. The brand's products are formed with excellent quality, skin-friendly ingredients that are ideal for all skin types.
Bubble offers a variety of products, such as cleansers, toners, serums, and moisturizers, all of which are designed to improve the general health and appearance of your skin.
One of the brand's popular products is the Bubble Slam Dunk moisturizer, which is a mild yet effective moisturizer.
So, we will be reviewing the Bubble Slam Dunk Moisturizer, a skincare product that claims to provide intense moisture and a youthful glow.
If you're curious whether this moisturizer lives up to its claims, keep reading to learn everything you need to know before making a purchase.
Bubble Slam Dunk Moisturizer Review
Product Details
Bubble's Slam Dunk Hydrating Moisturizer has a calming and incredibly hydrating formula that replenishes moisture to leave skin feeling soft, peaceful, and protected.
This naturally derived Gentle Moisturizer helps in replenishing the skin's necessary nutrients and providing deep hydration.
It is a fragrance-free moisturizer designed for dry and normal skin types, but it has also received acclaim from individuals with sensitive and acne-prone skin.
Price
$16.00 (1.7 FL OZ/ 50 ML)
Bubble Slam Dunk Moisturizer Ingredients
Key Ingredients:
Skin-identical ingredients: Glycerin, Arginine
Antioxidant: Persea Gratissima (Avocado) Oil, Tocopheryl Acetate, Tocopherol
Soothing: Aloe Barbadensis Leaf Juice Powder, Oenothera Biennis (Evening Primrose) Oil, Anthemis Nobilis Flower Extract
Aloe Leaf juice is a plant-based antioxidant that helps to relax, soothe, and hydrate skin.
Vitamin E is a powerful antioxidant that helps fight radical damage, defend against harmful pollutants, and repair skin cell health.
Avocado Oil is a mild antioxidant oil that nourishes skin and lessens redness. Its naturally high vitamin and vital fatty acid content simultaneously softens and moisturizes.
Blue Light Protection is driven by superfood proteins, a science-backed combination of nutrients that prepares, protects, and restores the skin from solar and synthetic blue light-induced damage.
Hoya Lucunosa Flower Extract is a natural extract that promotes a more luminous, glowing complexion and soothes the skin.
Glucose has water-binding capabilities, which means it helps maintain your skin hydrated.
Glycerin is a humectant, which absorbs humidity from the environment into the skin to moisturize it.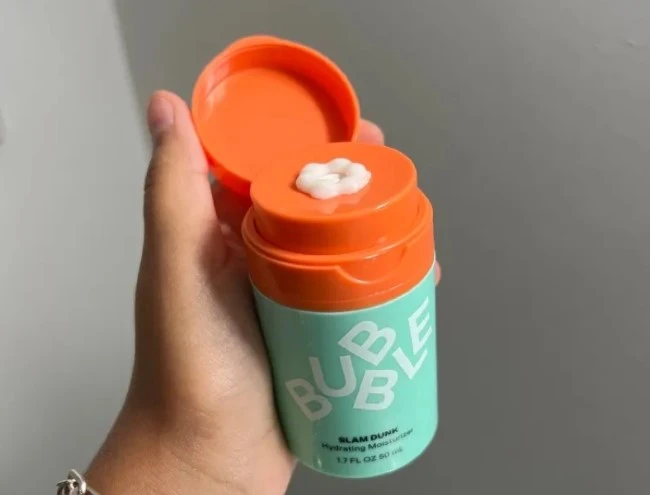 My experience with Bubble Slam Dunk Hydrating Moisturizer
Bubble's Slam Dunk Moisturizer is an amazing standout in my skincare collection. This product fulfills its claim to deeply moisturize dry skin and leave it feeling smooth and nourished.
The non-greasy, lightweight texture absorbs easily without clogging my pores or causing any breakouts, which is ideal for my combination skin. My skin feels hydrated without feeling oily or heavy after using it.
Since using this daily face moisturizer, I've seen a significant improvement in the texture and general appearance of my skin. It has helped to minimize the look of fine wrinkles and give my skin a more even tone.
The blend of botanical extracts and essential oils gives my skin a healthy, glowing appearance, and the light, pleasant aroma gives my skincare regimen a beautiful finishing touch.
The Slam Dunk hydrating bubble moisturizer completely changed the appearance of my skin. My skin becomes really dry in cold weather; it has improved my skin from dry to immediately hydrated. It moisturizes my dry skin and makes it feel smooth and radiant.
This facial moisturizer absorbs fairly quickly and is ideal for oily skin because it leaves the skin feeling nourished and silky smooth without any greasiness. Also, it is gentle enough for sensitive skin.
It spreads easily, has a pleasant scent, and keeps the skin moisturized. It is very cost-effective and is a great dupe for the drunk elephant moisturizer.
It helps to restore dry skin's natural balance and prevent breakouts. Since using this hydrating facial moisturizer, I've seen a big change in my skin. Anyone looking for a nourishing moisturizer that won't clog their pores should definitely try it, in my opinion.
Packaging
The moisturizer is packaged in a teal-colored plastic tube with an orange top. To dispense the product, press the orange top down. It's so adorable how the product comes out in the shape of a flower. You can get the right amount of product at your fingertips with only a pump and a lid swipe; no cream gets wasted in this process.
Consistency
The moisturizer is a white light texture lotion that is neither too thin nor too thick. It provides the ideal amount of hydration while gliding smoothly into the fingers.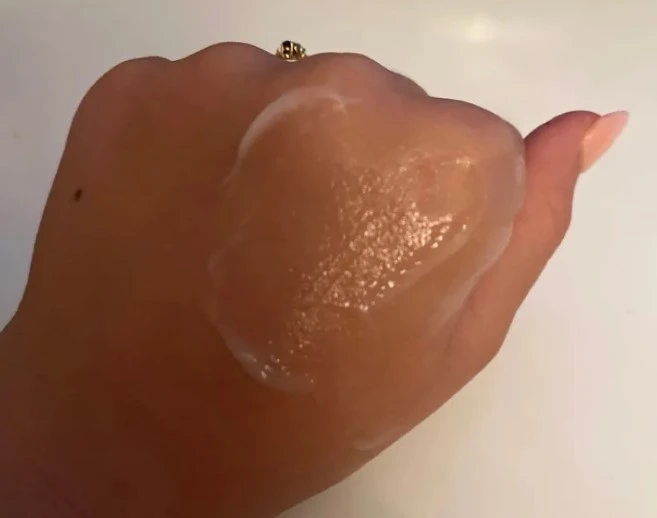 Pros of Bubble Slam Dunk Moisturizer
Vegan
Cruelty-free
Non-comedogenic nourishing cream
Dermatologist tested
Lightweight formula
Fragrance-free moisturizer
Suitable for normal to dry skin types
Unique applicator design
Quick absorption
Paraben-free and alcohol-free
Cons of Bubble Slam Dunk Moisturizer
Final Verdict
Overall, Bubble's Slam Dunk Moisturizer is an excellent product that lives up to its claims and is a must-have in my skincare routine. It is a lightweight, nourishing cream that leaves the skin feeling soft and luminous. The formulation is rich with skin-loving ingredients, and I enjoy its clean and organic approach to skincare. It is an amazing moisturizer that I would suggest to anyone looking for a potent and nourishing skincare product.