If you have mature skin, you understand that your makeup routine must change to accommodate your skin's evolving needs. Mature skin deserves makeup products that cater to its unique needs.
The perfect eye primer is one essential product that may significantly impact your makeup application. Our skin changes as we age, including texture, moisture, and fine wrinkles.
Finding the best eye primer for mature skin will help you drastically improve your makeup game. The right primer not only makes your eye makeup stay longer but also smooths out the surface, hides imperfections, and brings out the color of your eyeshadow.
I have researched several eye primers from various beauty brands and selected the best eye primers for aged skin.
Therefore, we'll delve further into the details of the Best Eye Primer for Aging Skin in this post, providing product specifications, advantages, and answers to frequently asked questions.
Why is Eye Primer Required for Mature Skin?
Our skin naturally becomes less elastic and moisturizing as we get older. This can result in dryness, wrinkles, and fine lines, particularly around the delicate eye area. Regular makeup primers could not give aged skin the necessary hydration and smoothing properties.
An eye primer guarantees that it covers all imperfections to produce an even canvas for your eyelid so that you can apply makeup flawlessly.
Also, using an eye primer is an effective way to extend the wear of your eye makeup. It helps avoid smudging, turning cakey, and settling fine wrinkles, which are significant issues for mature skin.
12 Best Eye Primer for Mature Skin
| Best Eye Primer for Mature Skin | CHECK PRICE |
| --- | --- |
| 1. Urban Decay Eyeshadow Primer Potion Original | Check Price |
| 2. Benefit Cosmetics Stay Don't Stray Eye Makeup Primer | Check Price |
| 3. LORAC Behind the Scenes Eye Primer | Check Price |
| 4. COVERGIRL Lid Lock Up Eyeshadow Primer | Check Price |
| 5. Smashbox Photo Finish Lid Primer | Check Price |
| 6. Milani Eyeshadow Primer | Check Price |
| 7. Elizabeth Mott Thank Me Later Eye Primer | Check Price |
| 8. Anastasia Beverly Hills – Mini Eye Primer | Check Price |
| 9. Smashbox Photo Finish Hydrating Under Eye Primer | Check Price |
| 10. Trish McEvoy Eye Base Essentials | Check Price |
| 11. NYX PROFESSIONAL MAKEUP HD Eyeshadow Base, Shadow Primer | Check Price |
| 12. Hourglass Veil Eye Primer | Check Price |
12 Best Eye Primer for Mature Skin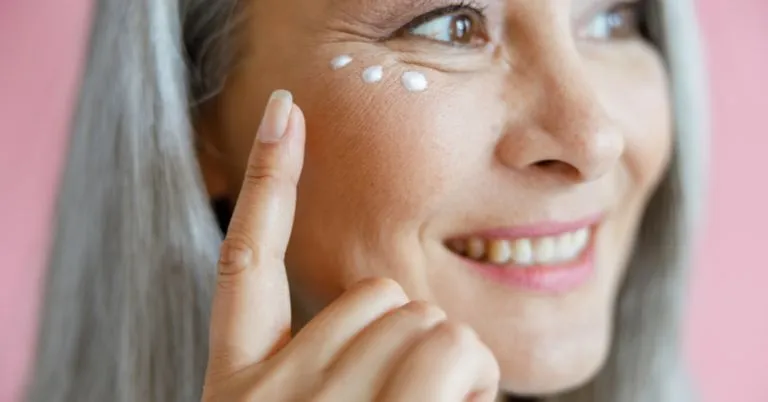 1. Urban Decay Eyeshadow Primer Potion Original
We discovered this Long-lasting Eyelid Primer from Urban Decay when looking for the best eye primer for mature skin.
If you have oily eyelids and are tired of your makeup smearing, creasing, or disappearing after a few hours, the Urban Decay Primer Potion could be your savior.
It is the best eyelid primer base for long-lasting, crease-free eyeshadow looks. The consistency of this primer is thin and transparent, allowing it to blend into the skin quickly.
This long-lasting eye primer prevents eyeshadow from creasing and brightens colors and texture. Its Longwear formulation avoids creasing and cracking of eyeshadow and eyeliner.
Its polymer technology formulation works as the ideal base for eyeshadow and eyeliner, hiding any surface flaws and preparing the lids for all-day usage.
The best eye primer for oily lids smoothens the lids, creating the ideal canvas for applying vibrant, pigmented eyeshadow.
Price: $27.00 (Buy Here)
Pros
Paraben-free
Vegan
Great for oily lids
The creamy formula goes on smoothly
Create crease-free base
Long-Lasting Formula
Cruelty-free
Cons
Sale
---
2. Benefit Cosmetics Stay Don't Stray Eye Makeup Primer
Get your hands on Benefit Cosmetic's Stay Don't Stray eye makeup primer if you're looking for the best eye primer for dry eyelids.
It is ideal for maintaining eyeshadow and concealer in place throughout the day. The dual-action formula prevents eyeshadow from fading and concealers from creasing around the eye area.
This primer contains sodium hyaluronate, which fills in fine wrinkles, and vitamins C and E, which fight aging symptoms for a bright and younger-looking face. A little goes a long way and is very flattering for medium-complexion tones.
The product has a slightly watery texture, similar to a liquid lotion, and feels exceptionally light and silky to the touch. Naturally, as it conceals, it prepares your lid for crease-resistant shadow application.
This best hydrating eye primer for older skin helps to balance out skin tone on the eyelids. Also, it includes a "Dip & Dab" application wand.
This tinted eye primer keeps your concealer from creasing and your eyeshadow from fading. It works well for "no makeup" looks when you want to wear a tiny bit of makeup to feel put together.
Price: $31.59 (Buy Here)
Pros
Moisturizing formula
Creamy texture that's easy to apply
Easy wand applicator
It sets and dries for all-day wear
Long-wear formula
No crease
Cons
It is only available in a single shade.
Sale
---
3. LORAC Behind the Scenes Eye Primer
Lorac Behind the Scenes Eye Primer is the perfect choice for oily and wrinkled eyelids. It is also great for sensitive, older, oily, and combination skin.
Carol Shaw, a well-known makeup artist, developed this primer for use on the red carpet and behind the scenes during photo shoots.
It's a lightweight and gentle product that keeps your eye shadow looking flawless and crease-free from morning to night.
This paraben-free eye shadow primer applies smoothly and provides crease-resistant, silky-smooth color. It helps create a strong foundation so that eyeshadow and powders can stay long, making it the best eye shadow primer for mature skin.
This cream provides a stronghold for any powder or cream eyeshadow. This eye primer prevents even the slackest glitter pigment from budging, no matter what finish you choose.
What we liked best about this primer is that it holds even the most loose glitter eyeshadows and keeps them from smudging.
Price: $25.00 (Buy Here)
Pros
Oil-free and fragrance-free
Paraben-free
Crease-resistant
Lightweight formula
Soft matte finish
Ideal for all skin types
Gentle enough for sensitive skin
Long-lasting formula
Cons
---
4. COVERGIRL Lid Lock Up Eyeshadow Primer
The Covergirl Lid Lock Up Eyeshadow Primer provides an even base for your eyeshadow and guards against creases and smudges making it the best eye shadow primer for mature skin.
This aging skin primer has an instant-dry consistency, so you won't have to wait too long before applying makeup.
This primer is for anyone who wants crease-free, long-lasting eyeshadow. The water-resistant formula prevents smearing and rubbing off while keeping your shadow looking vibrant and fresh all day.
This translucent eye makeup primer is simple to apply thanks to the handy applicator tip, which also helps you dab on the perfect product.
The eye makeup primer for mature skin offers a crease-free finish to extend the wear time of your eyeshadow.
Price: $8.99 (Buy Here)
Pros
Cruelty-free
Non-Sticky
Preps lids for all-day wear
Long-lasting finish
Ultra blendable and lightweight formula
Prevents creasing instantly
Quick drying
Smooth and even application
Cons
Little hard to blend eyeshadows
Sale
---
5. Smashbox Photo Finish Lid Primer
Smashbox photo finish lid primer is the best under-eye primer for mature skin. Also, this luxurious lid primer builds a flawless canvas for shadow application. Its formula glides on smoothly and rapidly smooths and perfects the appearance of the eyelids.
These shadow-enhancing lid primers rapidly enhance color while keeping shadow in place. Its lightweight, creamy, luxurious formula is easy to blend for a smooth, even application that doesn't crease, cake, fade, or smudge.
Color-correcting shades in light, medium, and dark tones balance out skin tone and color-correct the lids. The smoke shade instantly amplifies and deepens color for a smoky eye.
This lid primer stops creases and keeps your shadow in place for much longer. Soft-focus pearls help to hide mild wrinkles and discoloration on the lids.
Price: $21.00 (Buy Here)
Pros
Vegan and cruelty-free
Paraben-free
A sheer tinted eyeshadow primer
Wear it alone for a flawless
Works as a primer and a concealer
The creamy formula blends seamlessly
Cons
Someone may feel a bit thick formula
---
6. Milani Eyeshadow Primer
Milani Eyeshadow Primer is the best drugstore eye primer for mature skin. This eyeshadow primer is suitable for all skin tones and is non-drying, providing the ideal foundation for dramatic eye looks.
This cruelty-free primer enhances your favorite eyeshadow and extends wear from day to night thanks to its lightweight, crease-proof consistency.
It goes on clear and dries invisibly; you'll know it's working if your eyeshadow looks professional and smooth.
It helps crease-free makeup for a smooth appearance. One swipe gives a skin-like texture, making it one of the best crease-proof primers for mature skin.
Milani's Eyeshadow Primer is an affordable alternative to the Urban Decay Eyeshadow Primer Potion. This vegan-friendly primer is appropriate for all skin tones and types.
Price: $7.97 (Buy Here)
Pros
Affordable drugstore primer
Lightweight
Invisible tint
Non-sticky texture
Long-wearing formula
Glides smoothly
It makes the eyeshadow pop
Cruelty-free and Vegan
Crease-proof formula
Cons
It stings when it gets into the eyes
Also Read: Best Primer for NARS Light Reflecting Foundation
---
7. Elizabeth Mott Thank Me Later Eye Primer
Elizabeth Mott Thank Me Later Eye Primer is another excellent eye primer for mature skin that is lightweight and non-greasy, so you won't need frequent touch-ups or experience heaviness around the eyes.
Thank me later face primer is a mattifying primer made without parabens or animal products. It is made with premium materials, including pearl powder.
This eye base primer helps your eyeshadow appear stronger and more colorful without worrying about fallout by enhancing the pigment.
It also helps to regulate oil and maintain your look fresh. With a more seamless blend and a smoother application, this eye makeup primer gives your lids the best base for eye makeup.
This women's eyeshadow primer product fights oily lids and creasing as well as leveling out skin tone. Its formulation is parabens-free and contains a sebum-controlling powder to reduce greasiness.
It enhances your skin's appearance, hides discoloration, and evens your complexion. You may thank us later, so don't worry.
Price: $13.99 (Buy Here)
Pros
Lightweight formula
Paraben-free & Cruelty-free
Enhances eyeshadow color
Combats oily eyelids
Non-greasy and long-lasting
Ensures seamless blend
Mousse-like texture
Budget-friendly
Prevents creasing
Cons
Sale
---
8. Anastasia Beverly Hills – Mini Eye Primer
The Anastasia Beverly Hills Mini Eye Primer is a water-resistant eye primer that works well as a base for pressed pigments and matte and shimmer eye shadows.
The satiny texture allows for easy blending and smudge-proof, seamless application of any metallic, matte, or sparkly eye color, making it the best smudge-proof eye primer for aging eyes.
Its creamy texture applies easily and gives the ideal base for applying eye shadow that won't crease or flake.
It ensures smudge-free wear and a silky, blendable finish for metallic, matte, and shiny shadows and pressed pigment colors.
The Mature Skin Eyeshadow Base makes you appear younger and reduces the visibility of mild wrinkles. Since it's packaged in a squeeze-type tube, using it while traveling is convenient, and you may accurately dispense the correct quantity.
Price: $13.00 (Buy Here)
Pros
Paraben-free and Oil-free
Water-resistant and long-wearing
Vegan and Alcohol-free
Creates a canvas for eye shadow
Dermatologist tested
Clinically tested
Smudge-free formula
Noncomedogenic
Cons
---
9. Smashbox Photo Finish Hydrating Under Eye Primer
Smashbox photo finish primer is an award-winning, moisturizing under-eye primer that makes it the best under-eye primer for dry mature skin.
This hydrating primer gives you a smooth, moisturized basis for applying makeup while extending the wear of your makeup. The creamy, crease-resistant composition ensures your eyes stay refreshed and youthful throughout the day.
It contains moisturizing ingredients and is created specifically for the delicate under-eye skin area, ensuring that concealer appears fresh and eyes appear well-rested.
The Photo Finish primer improves age spots' texture, tone, and appearance while fighting undereye bags, puffiness, wrinkles, and inflammation.
Unlike moisturizer, the smooth primer texture stops concealer from smearing and settling into fine wrinkles. You can put it on by itself to instantly look brighter or under concealer to look more youthful all day.
This under eye primer may be more beneficial for those who have puffy eyes and want to add moisture to their under-eye area.
Price: $35.00 (Buy Here)
Pros
Hydrating formula
Oil-free & Crease-free formula
Prevents smudging
Lightweight, non-greasy
Silky texture
Hides aging spots
Doesn't settle into wrinkles
Combats puffy eyes
It makes the concealer look fresh all-day
Cons
Relatively more expensive
---
10. Trish McEvoy Eye Base Essentials
Trish McEvoy Eye Base Essentials is the ideal choice if you're looking for something to energize your tired eyes and also serves as a great base that adheres shadow to your lids, making it vivid, waterproof, and crease-free.
It is an eyelid brightener, primer, and corrector that instantly gives the appearance of brighter eyes by reducing redness and addressing darkness and discoloration.
So, It is the best primer for dark circles, a wonderful base, and a way to keep shadows looking vibrant and crease-free all day.
This waterproof primer for aging eyelids has a matte cream texture that should suit anyone with extremely oily eyelids because it dries to a matte, powder-like finish that inhibits shadows from sliding and slipping off the eye area.
Price: $36.00 (Buy Here)
Pros
Free from gluten, fragrance, and sulfates
Easy to use
Works well on older eyes
Covers darkness of eyelids
No creasing
It doesn't dry out the eyes
Non-greasy
Cons
---
11. NYX PROFESSIONAL MAKEUP HD Eyeshadow Base, Shadow Primer
NYX HD eyeshadow primer is an affordable, drugstore eye primer for mature skin. This lightweight eye shadow base primer will also enhance the pigmentation and longevity of your eyeshadows.
It smoothes out your lids, giving you the perfect eye makeup for aging skin with a less creasing appearance. It is a vegan eye primer with vitamin E available in 4 skin-adapting colors.
This cream-based eye primer has a doe-foot applicator, delivers sheer coverage, and enhances the intensity and vibrancy of any eye.
It makes shades more vibrant and prolongs the wear of eyeliner and eyeshadow. Apply a small amount of product from this NYX Cosmetics tube to your eyeshadows to make them stand out.
You may apply it with eyeliner and shadow for a more intense, rich color or wear it alone for a subtle, perfect natural look. It hides creases and enhances the eyeshadow's beauty.
Price: $14.00 (Buy Here)
Pros
Budget-friendly
Vegan and cruelty-free
Super creamy formula
No-smudge and no-crease
Gentle and smooth application
Lightweight eyeshadow base
Long-wearing eye looks
Good for oily eyelids
Gives a smooth, matte finish
Cons
Must be blended instantly after application.
---
12. Hourglass Veil Eye Primer
This supple, blendable primer improves the eyeshadow's color and firmness. Its lightweight, 100% vegan product gives off a smooth, even canvas and prolongs the use of eyeshadow.
The lightweight, long-wearing product evens up the surface for eyeshadow, enhances its performance, increases color vibrancy, and lessens fading and creasing from day to night.
Vitamins E and C nourish delicate skin, keeping it hydrated and minimizing the appearance of aging spots and sun damage. This velvety primer applies smoothly and feels light on the skin. It works all day to help prevent creases and fading.
Price: $30.00 (Buy Here)
Pros
Paraben-free
A lightweight formula
Vegan and cruelty-free product
It gives a smooth base for makeup
Waterproof eyeshadow wear
Reduces fading and creasing
Nourishing formula
Cons
---
How to Choose the Best Eyeshadow Primer?
If you're an older woman who has grown increasingly concerned about the overwhelming number of options, keep the following features in mind while choosing the best eyelid primer for mature skin:
1. Lightweight formula: Always choose a lightweight eye primer over a heavy, thick one. A light, gentle eye primer that doesn't set into wrinkles or creases is essential for mature skin.
2. Longevity: Choose primers that help your eyeshadow last longer to maintain your flawless look all day.
3. Anti-Aging Benefits: Ingredients like peptides and antioxidants can reduce the visibility of wrinkles and fine lines.
4. Hydration: Look for primers that have moisturizing ingredients like hyaluronic acid that fight dryness and brighten up the dry, mature eyelids.
Dos and Don'ts for Mature Eye Makeup
Do: Use matte eyeshadows, which are thought to be the ideal choice for older women as they provide an even, velvety finish and are more unlikely to settle into creases and lines. They also help to raise hooded eyelids.
Don't: Avoid overusing shimmery or glittery eyeshadows because they can draw attention to older women's fine wrinkles.
Final Verdict
In conclusion, finding the best eye primer for mature skin can significantly impact your makeup routine. The specialist mentioned above primers are designed to mature people's particular needs, from boosting eyeshadow vibrancy to addressing indications of aging.
Remember to emphasize skincare alongside makeup to preserve healthy, glowing skin. With the correct products and methods, you can confidently flaunt any eye makeup look gracefully and elegantly.
Don't let age be a barrier to achieving stunning makeup looks – embrace the power of the right products.
Frequently Asked Questions
How do you use eye primer on mature eyes?
It's simple to apply eye primer. After moisturizing, dab a pea-sized amount on your eyelids. Apply your eye makeup after patting it into the creases of your eyes to create a smooth base.
Can I use face primer as an eye primer?
No. Even though some products may be safe to use around the eyes if they are particularly labeled as such, applying an eye primer on the delicate area around the eyes is always preferable.
What's the difference between face primer and eye primer?
The formula is the primary difference between face primers and eye primers. Eye primers are intended to make eyeshadow adhere to the eyelids and prevent creasing, while face primers are designed to give the foundation a flat surface to work on. Face primers may not provide the eyeshadow sufficient grip because they are not as sticky as eye primers.
Does eye primer hide wrinkles?
An eye primer helps smooth out the eyelids, lessen the appearance of wrinkles, and conceal them. They help prevent the look of creases because they are specially made for aging skin.
Can I use moisturizer instead of eye primer?
You need to apply both moisturizer and a makeup primer to make the eyeshadow stay put and appear more bright. Using a moisturizer, you can moisturize your eyelids and stop makeup from adhering to dry areas. Makeup primer is a barrier to prevent eyeshadow from creasing and fading. You can get the best from your eyeshadow and get an amazing look by using moisturizer and makeup primer.
Can eye primer replace concealer?
Although eye primers produce a smooth base, they might not offer the same level of coverage as a concealer. For the best outcomes, using both is recommended.