Are you having trouble finding a foundation that suits your dry skin? Do you often notice your foundation clinging to dry patches, leaving your complexion flaky and dull?
When applying makeup, especially foundation, dry skin can be difficult to deal with. Many foundations available can highlight dry skin and make your skin appear even more parched.
We tried and reviewed various cushion foundations to find the one that will give you a beautiful, dewy complexion while also keeping your skin hydrated all day.
Say goodbye to dry, cakey foundation and hello to a fresh, glowing look with our top pick for the best cushion foundation for dry skin.
What is a Cushion Foundation?
A cushion foundation is a liquid makeup item that comes in a compact with a smooth cushion that looks like a sponge. It is portable for an instant touch-up.
When you press the sponge on the foundation-soaked cushion, it dispenses the product for simple application. Cushion foundation makeup often provides your skin with a natural, dewy appearance.
They're excellent for anyone looking for an easy and quick way to balance out their skin tone and achieve a fresh, radiant complexion without using a lot of makeup.
How is a Cushion Foundation Different from a Liquid Foundation?
The formula, application, and finish of a cushion foundation differ from those of liquid foundations.
The cushion foundation provides you with a weightless, dewy, and fresh finish. Traditional liquid foundations are available in a variety of finishes, including matte, satin, and dewy, to suit different needs.
Cushion foundation is often lighter than liquid foundation. Because the cushion foundation is watery, it always comes with an applicator that includes a sponge.
The foundation is absorbed into puffs that are pressed into the applicator. The design of the cushion prevents overapplication and offers a lighter, more buildable covering. This tapping motion produces a flawless, natural finish.
Traditional liquid foundations, on the other hand, come in bottles or tubes with a variety of applicators, including pumps and droppers. In order to obtain a flawless appearance, liquid foundations are typically applied with sponges, brushes, or fingers, which may take more skill and blending.
The cushion foundation's coverage ranges from light to medium, resulting in a natural look. Cushion foundation is a better option for daily makeup than liquid foundation, which is typically used for formal occasions.
8 Best Cushion Foundation for Dry Skin
| TOP CUSHION FOUNDATION FOR DRY SKIN | CHECK PRICE |
| --- | --- |
| 1. MISSHA Magic Cushion Foundation | Check Price |
| 2. AGE 20's Signature Intense Sunscreen SPF 50+ Cushion Foundation | Check Price |
| 3. CATKIN Phoenix Cushion Foundation | Check Price |
| 4. Maybelline New York Dream Cushion Liquid Foundation | Check Price |
| 5. HERA UV Mist Cushion | Check Price |
| 6. TIRTIR Aura Glow Cushion | Check Price |
| 7. ESPOIR ProTailor Beglow Cushion | Check Price |
| 8. AMUSE Dew Jelly Vegan Cushion Foundation | Check Price |
8 Best Cushion Foundation for Dry Skin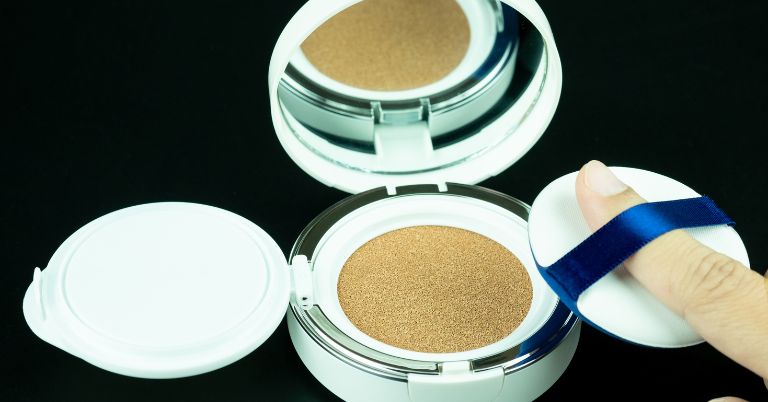 1. MISSHA Magic Cushion Foundation
Missha Magic Cushion Foundation is one of the best cushion foundations for dry skin that gives a simple and quick makeup application.
This Korean cushion provides thin, scalable, and durable coverage. The 2-in-1 cushion compact contains both skincare and cosmetics.
It evens out skin tone, hydrates skin, covers blemishes and discoloration, and facilitates touch-ups. The secret to this compact's brilliance is a dewy, non-drying cushion that makes applying foundation simple and fluid.
It is an infused plant extract that makes skin look more bright and hydrated while also improving the texture of the skin. Unbelievably, the cushion foundation puff only requires 1 to 2 dabs to provide full coverage.
It is the best cushion foundation for acne-prone skin and is reasonably priced. The cushion contains silica bead powder, which reduces excess face oils and sebum while also helping in sweat absorption.
Price: $12 (Buy HERE)
What We Like:
Lightweight formula
Dewy finish
Provides buildable coverage
Easy application
Moisturizing and Long-lasting
Budget-friendly
Creates smooth texture
What We Don't Like:
Refills are not included.
Sale
---
2. AGE 20's Signature Intense Sunscreen SPF 50+ Cushion Foundation
AGE 20's signature intense sunscreen cushion foundation is the best cushion foundation for dry skin. It is 71% essence-infused, making it lightweight and non-stick.
This cushion Korean makeup is a 4-in-1 cushion compact that includes a color corrector, a brightening tone-up, a full coverage foundation, and a sun protector with SPF 50+ PA++++.
This dry skin cushion foundation makes the look with dewy, weightless, and buildable coverage. The lightweight formula conceals your pores, blemishes, and flaws without appearing overly thick.
Dewy finish foundation is designed to improve skin texture and provide smooth, radiant, and moist skin. This lightweight cushion compact foundation provides good UV ray protection. The product comes with one case, two refills, and two puffs.
Price: $38 (Buy HERE)
What We Like:
Lightweight and moisturizing
Satin formula
Buildable coverage
Leaves natural dewy finish
UV protection with SPF 50+
Easy to apply
Travel-friendly
Covers imperfections
What We Don't Like:
---
3. CATKIN Phoenix Cushion Foundation
CATKIN Phoenix is the best cushion foundation for dry aging skin, with sheer coverage and an anti-aging serum formulation.
It is a BB Cream Cushion Foundation that is lightweight, full-coverage, hydrating, and has a natural finish. It nourishes skin, absorbs sweat and sebum, lasts a long time, and doesn't darken oily or dry skin.
It can successfully decrease skin wrinkles by moisturizing the interior skin and smoothing the skin surface over time. This supple, breathable product smoothly blends and blurs for skin that moves with you and appears to be skin.
This hydrating foundation quickly covers redness, dark spots, blemishes, and uneven skin tones, giving the user a gorgeous, radiant appearance.
It helps conceal imperfections to produce a pore-free, semi-matte complexion and keeps your natural base makeup in place all day long without creasing.
Price: $24.99 (Buy HERE)
What We Like:
Lightweight and breathable formula
Reduces signs of aging
Buildable Coverage
Refill Included
Sheer satin finish
Conceals imperfections and skin blemishes
It hydrates and moisturizes the skin
What We Don't Like:
Sale
---
4. Maybelline New York Dream Cushion Fresh Face Liquid Foundation
If you're looking for the best drugstore cushion foundation for dry skin, you'll adore the Maybelline New York Dream Cushion. It effectively conceals skin flaws, corrects uneven skin tone, and gives off an all-day beautiful shine.
This best sponge foundation offers seamless medium coverage and a radiant finish, allowing you to easily update your appearance throughout the day. The cushion sponge is loaded with liquid foundation, making the small size portable and simple to use.
It is perfect for all skin types and is designed to balance out and smooth the skin tone, giving the user a luminous and youthful appearance. This affordable dry skin makeup is portable for use on the go thanks to its small cushion applicator.
Price: $17.99 (Buy HERE)
What We Like:
Portable and easy to use
Lightweight
Liquid texture that blends seamlessly
Luminous finish
Provides a smooth, flawless finish
Affordable cushion
Perfect medium coverage
What We Don't Like:
---
5. HERA UV Mist Cushion
If you want a cushion with a long-lasting semi-matte finish and good medium coverage, the HERA UV Mist cushion cover is a great choice.
This dewy cushion foundation keeps the skin moisturized and prevents it from drying out throughout the day, making it ideal for usage in the winter.
It is a full-coverage cushion foundation that gives the complexion a radiant, healthy glow with each application for beautiful, ideal skin.
Cushion makeup provides thin, perfect coverage, and this cushion compact illuminates the skin. This multipurpose sunscreen foundation is suitable for all skin types.
It offers UV protection and does a good job of hiding age signs. Its lightweight, ultra-fine makeup effortlessly glides over the skin. It is a 5-in-1 BB cushion that enables you to offer an entirely natural and bright appearance.
Price: $45 (Buy HERE)
What We Like:
Lightweight texture
Mild formula
Evens out skin tone
SPF50 PA+++ provides high sun protection
Has a semi-matte finish
Comes with a refill
Provides full coverage
Moisturizing and Long-lasting
What We Don't Like:
No products found.
---
6. TIRTIR Aura Glow Cushion
TIRTIR Aura glow cushion is the best glow cushion foundation for dry skin. It has a luminous finish and provides the ideal blend between dewy and matte.
These cushion foundations offer a buildable formulation that helps to enhance face texture while providing skin with long-lasting hydration.
Moisturizing cushion makeup combines skin-hydrating, calming cream, and skin-glow powder to promote a youthful look.
Its mild vegan formula contains a gentle UV protection powder, giving you a refreshing and luminous covering while prioritizing the health of your skin.
It provides thick and moisturizing coverage on dry skin for a lovely glow that lasts all day. The formulation is light enough to allow the skin to breathe while still being gentle to sensitive skin.
Price: $25 (Buy HERE)
What We Like:
Vegan
A rich, moisturizing glow
Long-lasting hydration
Lightweight coverage
Leaves dewy finish
Good Korean cushion for all skin types
What We Don't Like:
It may not be good for sensitive skin
---
7. ESPOIR ProTailor Beglow Cushion
ESPOIR Pro Tailor Be glow cushion is one of the best Korean cushion foundations for all skin types. This feather-light cushion adheres to the skin very lightly.
Without having to worry about a thick application, air-fit powder technology offers a thin, smooth layered cover.
The use of fresh glow powder does not alter color even after complete absorption of the formula, brightening skin all day without darkening.
This Glow Foundation effectively hydrates and regulates moisture for a natural, vibrant glow. A moisturizing cushion offers natural daily makeup looks with smooth, light coverage.
The three-layer technique provides intense hydration for soft skin, and the fresh glow powder evens out skin tone and gives you a radiant shine that lasts all day.
Price: $27.89 (Buy HERE)
What We Like:
Moisturizing
Lightweight formula
Radiant, natural finish
Suits all skin types
Slides smoothly onto the skin
Long-lasting moisture
Leaves a natural glow look
What We Don't Like:
---
8. AMUSE Dew Jelly Vegan Cushion Foundation
If you want the best cushion foundation for dry, sensitive skin, get your hands on the AMUSE dew jelly cushion foundation.
It is a vegan glow cushion that prevents rubbing off and keeps your skin soft and luminous. It is dermatologically tested with its safe and gentle formula.
This foundation sticks to the skin and provides an additional layer of hydration thanks to its dewy appearance and jelly-like substance. The foundation puff is composed of an antimicrobial and environmentally friendly fermented corn compound.
It makes your skin look clear and transparent by covering pores, redness, and blemishes naturally. This vegan foundation cushion offers the skin a dewy, bouncy look.
This cushion foundation makeup is made with allergen-free components, making it the ideal daily cushion for people with sensitive and acne-prone skin.
Price: $32 (Buy HERE)
What We Like:
Dermatologically tested
Paraben-free and Vegan
Mild formula
Good for sensitive skin
Natural coverage
Leaves a nice glow
Coves blemishes effectively
What We Don't Like:
Sale
---
How To Choose the Right Cushion Foundation – A Buying Guide
Choosing the best cushion foundation needs to take into account a number of aspects.
Skin Type: Decide whether you have dry, oily, sensitive, or combination skin. Opt for cushion foundations that are tailored to your requirements, such as hydrating for dry skin or oil control for an oily face.
Coverage level: Decide if you want light, medium, or full coverage. Different cushion foundations offer various levels of skin coverage. Full coverage conceals flaws while sheer coverage delivers a more natural appearance. Some give buildable and breathable covering, while others offer medium coverage. Check what will work for you.
Finish: Similar to coverage, different cushion foundations give various finishes. Depending on the appearance you want, choose a matte, dewy, satin, or natural finish.
SPF: To protect your skin from UV rays that could harm it, look for cushion foundations that have SPF. This additional advantage can keep skin healthy and stop further damage.
Hydration: Select cushion foundations with moisturizing properties if you have dry skin to keep it hydrated all day.
Longevity: Sometimes dry skin can make makeup fade or flake off easily. Choose cushion foundations with long-wearing formulas that endure the difficulties of dry skin and offer a consistent, youthful appearance.
How to apply a Cushion foundation on dry skin?
Methods for applying the foundation are important, even with a perfect cushion. Here are some tips to keep your skin moisturized and your makeup flawless:
Prepping Your Skin: Make sure your skin is properly hydrated before applying foundation. Create a smooth canvas on your face by cleansing, toning, and moisturizing. Before applying makeup, give your moisturizer time to thoroughly absorb.
Applying Foundation with a Cushion Puff: Apply the product with the cushion puff and your foundation. To pick up the foundation, press the puff into the cushion. After applying it to your skin, gently dab and smooth it in. For an even application, begin in the middle of your face and combine outward.
Setting the Foundation: Gently sprinkle a translucent setting powder over your makeup to seal in moisture and lengthen the wear of your foundation. To keep a dewy appearance, concentrate on areas that are prone to oiliness and stay away from dry areas.
Final Verdict
Finding the best cushion foundation for dry skin can completely improve your makeup routine and bring out your natural beauty. You can get a flawless, bright makeup look that lasts all day with the right cushion foundation. The majority of the products listed above have a dewy finish and light-medium coverage. They have a mild formula that illuminates the skin and is mostly hydrating.
So, say goodbye to dry skin problems and hello to a lovely, moisturized complexion. Explore the options mentioned above, and you'll be on your way to makeup perfection.