Achieving a beautifully contoured face can transform your makeup look, adding depth, definition, and a touch of glamour.
The Charlotte Tilbury Contour Wand is one of the most well-known cosmetics in the beauty industry.
This incredibly popular product is renowned for its ability to define and sculpt the face, resulting in a beautiful contoured appearance. However, its high cost might not be affordable for everyone.
But don't worry! This post will look at some good Charlotte Tilbury Contour Wand Dupes that provide comparable results without costing a fortune. Prepare to get beautiful contouring on a budget!
Understanding the Benefits of Contouring
Contouring offers numerous benefits, regardless of your facial structure or skin type. By contouring, you can:
Create the illusion of higher cheekbones
Slim down the appearance of the nose
Define the jawline and minimize double chin
Lift and sculpt the face
Add depth and dimension to flat features
Charlotte Tilbury Contour Wand: An Overview
Charlotte Tilbury, a renowned makeup artist, and brand founder, introduced the Charlotte Tilbury Contour Wand as a convenient and effective product for contouring.
The product is known for its creamy consistency, easy application, and ability to blend smoothly into the skin.
The Hollywood Contour Wand's cushion applicator makes achieving beautiful, sculpted cheekbones simple.
It has been applied to pigments to improve color consistency and adhesion, and it can also define features and create shadows for a more natural finish. The product feels lightweight and dry when applied, making it simple to blend.
Use the cushion applicator to immediately apply it to the skin; this will ensure that the product is distributed evenly to the temples, nose, cheek hollows, and jawline. After applying, simply use the Brush to remove any excess.
The Need for a Dupe
While the Charlotte Tilbury Contour Wand is highly regarded, its price ($42.00) point may only suit some. Budget-conscious makeup users frequently look for less expensive options to acquire a sculpted effect without sacrificing quality.
Furthermore, the accessibility and availability of Charlotte Tilbury products may be limited in certain locations. Therefore, finding a dupe can provide an affordable option and open contouring to a larger audience.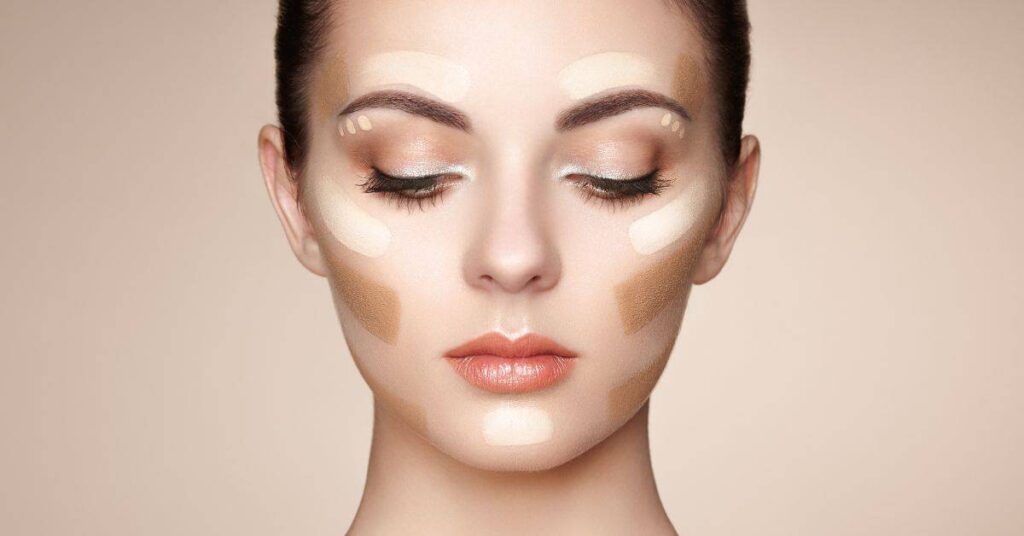 Top Contouring Dupes for Charlotte Tilbury Contour Wand
After conducting substantial research and review, we have compiled a list of the best contouring dupes that deliver results similar to those of the Charlotte Tilbury Contour Wand.
| PRODUCT NAME | CHECK PRICE |
| --- | --- |
| 1. Wet n Wild MegaGlo Dual-Ended Contour Stick | Check Price |
| 2. KIKO MILANO Sculpting Touch Cream Contour Stick | Check Price |
| 3. NYX PROFESSIONAL MAKEUP Contour Concealer | Check Price |
| 4. L. A. Colors I Heart Makeup Contour Palette | Check Price |
| 5. Milani Conceal + Perfect Liquid Contour | Check Price |
| 6. Maybelline Instant Age Rewind Hydrating Concealer | Check Price |
| 7. Revlon ColorStay Skin Awaken Concealer | Check Price |
| 8. Flower Beauty Lift & Sculpt Contouring Palette | Check Price |
| 9. NYX PROFESSIONAL MAKEUP Wonder Stick | Check Price |
1. Wet n Wild MegaGlo Dual-Ended Contour Stick
Wet n Wild contour stick is an excellent alternative to Charlotte Tilbury's Contour Wand because it is much less expensive at $6.49.
There are two shades available: Medium/Tan and Light/Medium. You can accentuate your features with its twin ends and superb highlighting and contouring formula.
The highlighter highlights your best features, while the contouring shade helps define and sculpt.
If you want to give certain parts of your face a more defined appearance, such as the cheekbones and jawline, use the contour shade.
Use the highlight shade to provide a subtle glow to any part of your face that needs it, such as the tips of your cheekbones and the bridge of your nose.
2. KIKO MILANO Sculpting Touch Cream Contour Stick
One of the best dupes of the Contour Wand is the KIKO MILANO cream contour stick, which costs $15.50.
It is a matte-finished contouring stick. The mixture contains African walnut oil and calming pistachio extract.
Like the Charlotte Tilbury Contour Wand, the soft and creamy texture guarantees good coverage and blendability.
It feels good to the touch, and the application is simple and accurate. The product allows you to sculpt the face by creating light and shadow effects.
Its creamy texture and matte finish make it the best contour stick. It is a non-comedogenic, dermatologist-tested makeup product that is also cruelty-free. It comes in two shades: 201 Chocolate and 200 Hazelnut.
3. NYX PROFESSIONAL MAKEUP Can't Stop Won't Stop Contour Concealer
This concealer from NYX is a best-seller and another nearly ideal replacement for the Contour Wand.
NYX professional makeup is the best liquid contour in 24 highly saturated shades. It offers a 24-hour wear time and a full-coverage finish.
This pigmented face and under-eye concealer is a multi-tasking contour concealer that can conceal discolorations and blemishes, brighten dark circles, and contour your face beautifully.
Its blendable consistency can be applied as a liquid contour, spot concealer, or under-eye concealer.
This liquid concealer is a vegan, buildable, lightweight, long-wear concealer that can be used for multiple purposes without transferring.
Also, it's the perfect makeup to conceal scars or acne. The Can't Stop Won't Stop Contour Concealer is perfect for everyone, whether you're a cosmetic novice or an expert.
4. L. A. Colors I Heart Makeup Contour Palette
The L.A. Colors Heart Makeup Contour Palette is a great knockoff that is an excellent beauty product at extremely reasonable prices. This is the best contour palette dupe of Charlotte Tilbury Contour Wand.
It contains eight blendable colors that help shape and define facial features. There are two shades available: Medium to Deep and Light to Medium. Each palette contains a glittery highlight to enhance skin brightness.
With this contour palette, it is possible to contour using darker tones to produce shadows and brighter colors to create sculpted highlights.
5. Milani Conceal + Perfect Liquid Contour
This product is what you need if you're searching for a buildable, lightweight formula to help you get that snatched-and-sculpted look.
It comes in a wider variety of shades than the Hollywood Contour Wand has the well-known sponge tip for a simple application, and costs only $10.99.
Its lightweight formulation is made to blend smoothly and build for sculpting, defining, and contouring. It is a tiny sponge applicator that produces a finish without streaks.
A streak-free application dries immediately and uniformly to add depth and worth seamlessly.
If you're new to contouring, this Milani liquid contour with sheer consistency is a perfect addition to your makeup routine.
6. Maybelline Instant Age Rewind Hydrating Concealer
Maybelline age rewind concealer is the best drugstore dupe of Charlotte Tilbury contour wand. At only $10.99, it's also quite reasonably priced.
Just like Charlotte Tilbury, it comes with a sponge applicator. The formulation makes it even easier to move around and apply, and the sponge applicator makes the application simple.
The Maybelline Instant Age Rewind Eraser concealer is creamy and well-pigmented. This concealer offers up to 12 hours of hydrating wear for crease-resistant coverage.
It helps remove the appearance of dark circles, reduce the sight of redness, and illuminate the appearance of dull skin.
It won't clog your pores and works well on oily skin because this hydrating concealer is vegan and non-comedogenic. It is made without talc, parabens, or mineral oil.
In addition, it has many more shades than the two Charlotte Tilbury offers. Also, you'll find the best contour shades with the 18 offered shades.
7. Revlon ColorStay Skin Awaken Concealer
This is a wonderful Contour Wand dupe because the formulation resembles Charlotte Tilbury. Also, it has an application sponge tip, just like the Contour Wand.
Revlon Colorstay Concealer conceals, perfects, brightens, moisturizes, and refreshes skin for a sharp look.
This ColorStay Skin Awaken 5-in-1 concealer contains caffeine and vitamin C. The high-pigment formula is exceptionally light, buildable, and transfer-proof while providing perfect, natural coverage.
The flexible, pleasant formula glides with your skin, preventing it from settling into pores, fine lines, or wrinkles while giving parched skin a burst of moisture and freshness.
There is a great contour color for you among the various shades available. It has no extra fragrance, mineral oil, phthalates, or parabens.
8. Flower Beauty Lift & Sculpt Contouring Palette
Another excellent charlotte tilbury contour wand alternative is the Flower Beauty Contour Palette, which costs only $12.47.
Actress Drew Barrymore is the owner of Flower Beauty, which offers cruelty-free products at affordable pricing.
This palette is the ideal all-purpose sculpting palette to define your face quickly. Creamy powders blend and layer flawlessly for an easy-to-achieve professional appearance.
With its three highly pigmented shades—contour, blush, and highlight—this palette provides you with all you need in three simple steps.
This face palette has six creamy, blendable shades with a smooth, powdery texture. It's unusual in drugstore, mid-range, or even high-end products for each product to have good pigmentation and consistency in one palette.
9. NYX PROFESSIONAL MAKEUP Wonder Stick
If you're searching for a specific contour product, I recommend this NYX wonder stick as a nice alternative to a contour wand.
The combination of the colors and the creamier finish make this a good choice for beginners. You will adore this if you are new to contouring.
You receive two shades that combine to give you the desired sculpted appearance. NYX Contour Stick is vegan and cruelty-free, and it comes in eight different color combos.
The Wonder Stick is the perfect dynamic pair since it has a creamy, blending highlight on one end and a contour on the other, which makes applying sculpted makeup appear simple.
Since you won't have to worry about spills from a stick contour product, NYX Contour sticks are useful if you travel regularly. They operate just as easily as contour wands.
Application Tips for Flawless Contouring
To achieve the best results with your chosen dupe, follow these application tips:
Preparing Your Skin: Make sure your skin is clean and hydrated before using any contouring products. As a result, a flawless canvas is created for the contour to merge into. Use a light foundation or a tinted moisturizer as a base.
Mapping Your Face: Choose the areas you wish to contour, such as the cheek and temple hollows, the jawline, and the sides of the nose. For an innocent look, use a light hand and increase the intensity gradually.
Blending Techniques: Depending on your choice, you can use a brush, sponge, or your hands to blend the contour product. Blend thoroughly to eliminate any hard lines and create a smooth transition between the foundation and the contour.
Some Tips for Contouring Success
To ensure successful contouring and a flawless, sculpted look, keep the following tips and tricks in mind:
Choosing the right shade: Choose a contour color between one and two shades darker than your skin's natural tone. Avoid going too dark because it could make things look weird.
Applying in natural light: Applying your contour under natural light will produce more accurate results and appear more natural. Any harsh lines or uneven mixing are shown by natural light, allowing for any essential changes.
The gradual build-up for a natural finish: Apply the contour product lightly at first, then gradually increase the intensity. This method offers a more realistic-looking contour because you have more control over the depth and shading.
Final Verdict
Using the best Charlotte Tilbury contour wand dupes examined in this post, you may enhance your beauty game while keeping your expenses low.
So, say goodbye to expensive products and welcome these budget-friendly substitutes. Experiment, have fun, and unleash your inner makeup artist!
Frequently Asked Questions
Can I use a regular bronzer for contouring?
Yes, contouring can be accomplished using a matte bronzer. Ensure the bronzer has no shimmer or glitter particles and is two shades darker than your skin tone.
Are dupes as good as the original product?
While dupes may not always have the same formulation or packaging as the genuine product, many deliver equivalent results at a fraction of the price. Try a few different dupes to find the one that works best for you.
Can I use these dupes for contouring on other parts of my body?
Absolutely! These Charlotte Tilbury contour wand dupes are adaptable. They can contour various regions, such as the collarbones or legs, providing a sculpted effect anywhere you wish.
Are these dupes suitable for beginners?
Yes, indeed! With the help of these dupes, cosmetic beginners can experiment with contouring techniques without feeling obligated to buy pricey products. With confidence, start your contouring journey!