Many of us are aware that having acne-prone or uneven skin may be annoying and detrimental to our confidence. Aveeno Clear Complexion Daily Moisturizer can help with this because it is made to hydrate your skin all day long while also helping to improve the look and feel of your skin.
In the beauty industry, Aveeno is a trusted brand name. The company creates a variety of solutions that are targeted to various skin types since it recognizes that every skin type requires a unique approach to care. For people with oily and acne-prone skin, Aveeno Clear Complexion Daily Moisturizer might be worth a try.
Now I'm going to tell you about my experience with Aveeno Clear Complexion Daily Moisturizer. When reviewing this product, I'll also go over facts like ingredients, usage instructions, pricing, and more to help you determine if it's appropriate for you.
Aveeno Clear Complexion Daily Moisturizer Review
Product Details
Aveeno Clear Complexion is an acne-fighting daily face moisturizer with 0.5% salicylic acid that helps prevent breakouts and noticeably even skin tone for acne-prone skin.
It contains salicylic acid, an acne treatment that dermatologists recommend using to clear up current blemishes and help prevent new breakouts.
Salicylic acid and total soy complex are combined in this daily face moisturizer to help reduce the look of blemish-prone skin.
Salicylic acid exfoliates the skin, clears clogged pores, and lessens irritation. The component total soy complex, on the other hand, is renowned for its capacity to balance out skin tone and smooth texture, resulting in skin that feels soft and smooth.
Price
$14.59 for 4 fl. oz.
Aveeno Clear Complexion Daily Moisturizer Ingredients
Active Ingredient: 0.5% Salicylic Acid
Water, C12-15 Alkyl Benzoate, Dimethicone, Methyl Gluceth-20, Cetearyl Alcohol, PPG-10 Cetyl Ether, Arachidyl Alcohol, Behenyl Alcohol, Bis-Phenylpropyl Dimethicone, Glycine Soja (Soybean) Seed Extract, Isoceteth-20, Polyacrylamide, Glycerin, Cetearyl Glucoside, C13-14 Isoparaffin, Ethylene/Acrylic Acid Copolymer, Arachidyl Glucoside, Fragrance, Disodium EDTA, BHT, Laureth-7, Sodium Hydroxide, Citric Acid
What the product claims:
Helps clear up blemishes, Prevents breakouts, Evens skin tone and texture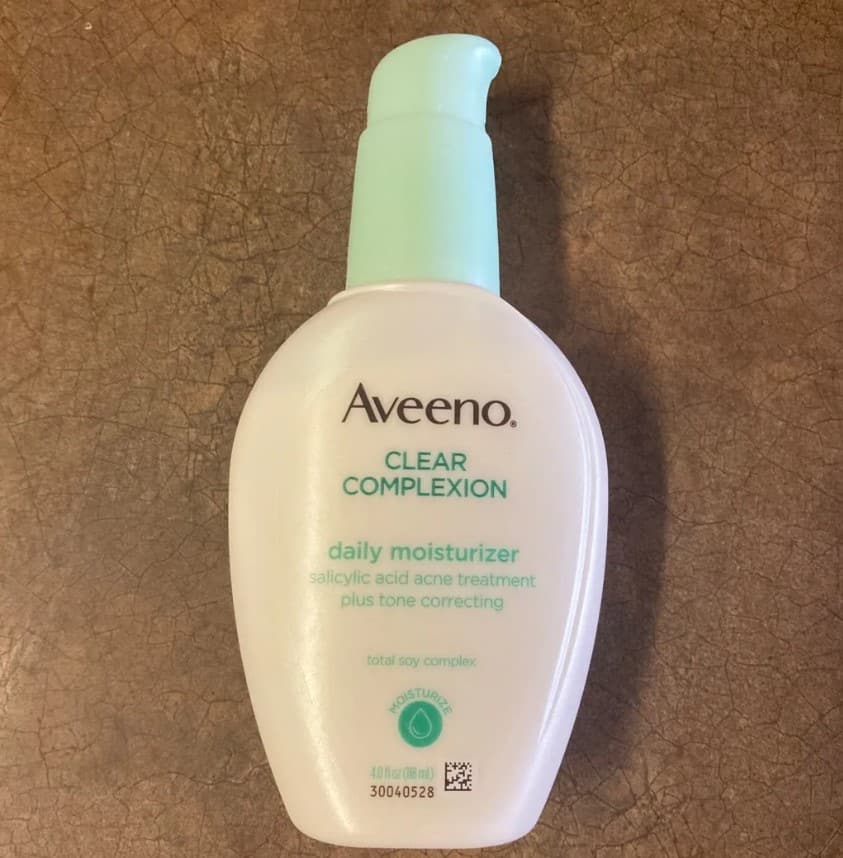 My experience with Aveeno Clear Complexion Daily Moisturizer
Since last year, I've been using Aveeno clear complexion daily moisturizer. It has become my summertime go-to facial moisturizer. It's gentle on my skin and keeps it hydrated and fresh.
I have acne-prone combination skin and use this moisturizer twice a day, once at night and once in the morning after exfoliating face wash. It neither dries out nor makes my skin feel oily. It is ideal for summer because the skin is greasy and prone to acne, but it also works well in winter.
I used this moisturizer for a year before noticing clearer skin and receding acne scars. This might be a result of salicylic acid being present in it. Also, it evens out my skin tone and fades pimple scars.
It isn't greasy and doesn't appear to aggravate acne. It also does not feel thick on my skin. Because the moisturizer is hypoallergenic and non-comedogenic, it is the ideal combination for my sensitive, combination, and typically acne-prone skin.
Using it consistently helps to avoid breakouts and redness. Likewise, I use this moisturizer in the winter when my face becomes extremely dry due to the hard weather.
Even though it tends to be heavier than other moisturizers, it penetrates quickly into the skin. It does not irritate my sensitive skin.
In addition to being excellent at hydrating, it also helped my skin look clearer. It keeps skin hydrated and spotless while being extremely lightweight.
Given that it delivers on its promises, this product is well worth every penny and doesn't appear to be pricey. It is unquestionably my Holy Grail and the best face moisturizer I have ever used for my acne-prone skin!
Packaging
The Aveeno daily moisturizer is packaged in a white plastic bottle with a pale green twist-lock lid. Also, this prevents product waste and provides a clean way to remove the product. It appears to be both strong and beautiful. You get enough moisturizer with only one pump to cover your entire face. Therefore the moisturizer lasts a long time.
Consistency
This moisturizer makes my skin feel really soft and has a creamy but light consistency. It moisturizes the skin wonderfully and is oil-free. It absorbs into the skin rapidly and doesn't require much massaging. It performed a wonderful job of moisturizing the skin without making it feel heavy. Overall, it appeared to balance the skin.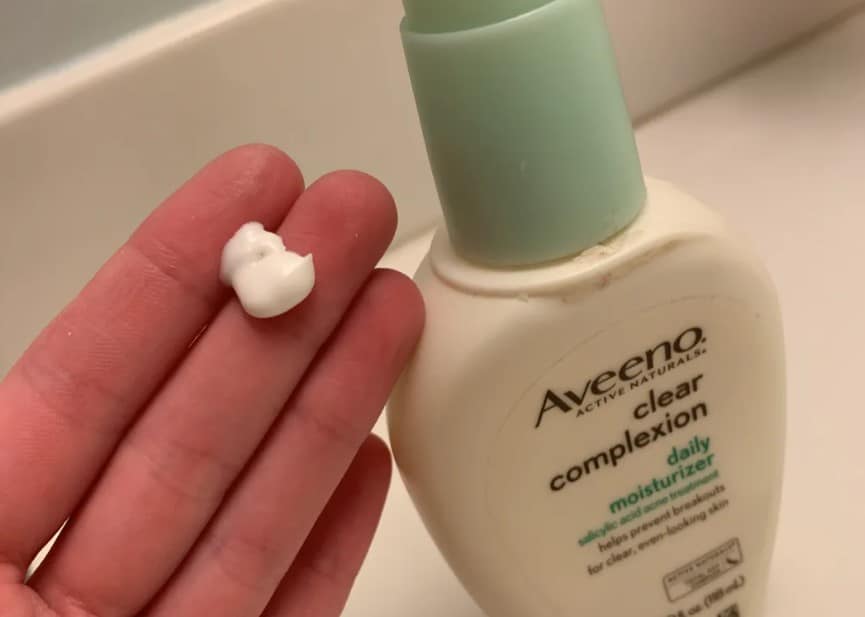 Fragrance
It has a mild, sweet scent that fades after a few minutes of use.
How to use Aveeno Clear Complexion Daily Moisturizer
Before application, wash the skin with a facial cleanser.
One to three times per day, apply a thin layer to the entire afflicted area.
Start with one time per day, gradually increasing as needed.
Sale
Pros of Aveeno Clear Complexion Daily Moisturizer
Non-greasy
Paraben free
Non-comedogenic and Hypoallergenic
Oil-free
Fast absorbing
Prevent acne blemishes
Helps prevent breakouts
Gentle enough for everyday use
Gentle for sensitive skin
Leave skin feeling calm
Makes skin smooth
Cons of Aveeno Clear Complexion Daily Moisturizer
Maybe not enough for dry-skin people
Conclusion
The Aveeno Clear Complexion daily moisturizer is ideal for people with oily skin who want a moisturizer to level out their skin's tone and texture and bring out its natural brightness. It is soft, hydrating, and easily absorbed into the skin. It removes blemishes and any uneven dry areas. It is designed to be used as part of a daily skincare routine. Overall, I advise anyone searching for a good moisturizer to use this as a daily moisturizer.