When it comes to maintaining healthy hair, one crucial factor often overlooked is the condition of the scalp. Aveda Scalp Benefits Balancing Shampoo is well-known for being a trustworthy solution for addressing scalp-related disorders while enhancing overall hair health.
This complete review will go into the advantages, ingredients, application, and experience of Aveda Scalp Benefits Balancing Shampoo.
Aveda Scalp Benefits Balancing Shampoo Review
Product Overview
The Aveda Scalp Benefits Balancing Shampoo is made with nourishing components such as burdock root, sage, echinacea, and lemon. It helps in the scalp's detoxification and hydration, leaving it feeling refreshed and moistened.
Daily shampoo cleans the hair from the root to the tip, reducing excess sebum and buildup and laying the basis for healthy hair. It has an aromatic blend of cinnamon, vetiver, and rosemary leaves.
This sulfate-free shampoo is a mild cleanser made to balance and calm the scalp while giving the hair a thorough cleaning. It thoroughly cleans hair and scalp without removing natural oils or making hair feel brittle or dry.
Price:
$37.00 for 8.5 Fl Oz (Check Here)
Aveda Scalp Benefits Balancing Shampoo Ingredients
Water\Aqua\Eau, Sodium Cocoyl Isethionate, Disodium Laureth Sulfosuccinate, Babassuamidopropyl Betaine, Sodium Methyl Cocoyl Taurate, Hippophae Rhamnoides (Sea Buckthorn) Extract, Arctium Lappa (Burdock) Root Extract, Echinacea Purpurea (Coneflower) Extract, Sodium Chloride, Narcissus Tazetta Bulb Extract, Glycerin, Peg-12 Dimethicone, Isostearamidopropyl Morpholine Lactate, Polysorbate 20, Laureth-3, Sodium Sulfate, Fragrance (Parfum), Sodium Benzoate, Trisodium Sulfosuccinate, Linalool, Citral, Limonene, Eugenol, Benzyl Benzoate, Citric Acid, Salvia Officinalis (Sage) Leaf Extract, Sodium Citrate, Methylchloroisothiazolinone, Potassium Sorbate, Methylisothiazolinone, Dimethicone Peg-8 Meadowfoamate.
Key ingredients
The Aveda Scalp Benefits Balancing Shampoo is formulated with a carefully chosen combination of organic ingredients to treat various scalp conditions. Let's examine some of the essential components that give this shampoo its potent ability to keep a healthy scalp:
Burdock Root: Burdock root extract regulates sebum production, keeping the scalp from getting excessively oily or dry. Additionally, it feeds the hair follicles, encouraging healthy hair growth.
Sage Leaf Extract: Sage leaf extract is known for its antibacterial capabilities, which can help in the treatment of scalp infections caused by bacteria or fungi. Also, it contains soothing properties that might lessen inflammation of the scalp.
Coneflower: Coneflower stimulates stem cells and increases blood circulation, both of which help in hair growth.
Sea buckthorn: The benefits for hair include hydrating, decreasing irritation and dandruff, and healing split end.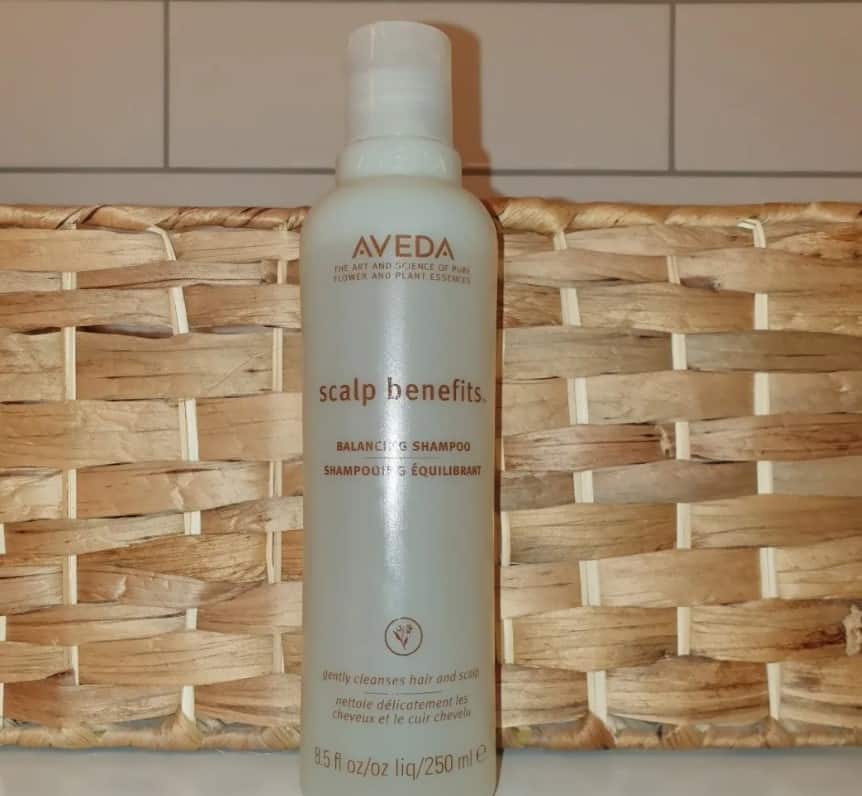 My experience with Aveda Scalp Benefits Balancing Shampoo
My scalp has always been dry and itchy, but it has never felt better since I began using Aveda Scalp Benefits Balancing Shampoo. It's soothing and pleasant, and it leaves my hair clean and healthy. My scalp feels balanced and clean after using it without drying out my hair.
After using this shampoo for a few weeks, I observed a considerable reduction in scalp irritation and dandruff. It is now an important part of my hair care routine. It successfully regulates oil production while preserving the moisture in my hair.
I like that this shampoo is made with natural ingredients. It effectively cleans my hair while being soft on my scalp.
My scalp has become sensitive as a result of my regular usage of chemical treatments on my hair. For me, Aveda Scalp Benefits Balancing Shampoo has changed everything. It relieves my scalp and leaves my hair looking fresh and lustrous.
It did a good job of cleansing without feeling excessively harsh; it does leave the scalp and roots feeling squeaky-clean, but not in an extreme way; After I used my conditioner afterward, the dryness seemed to be resolved.
It is the best and fastest-acting shampoo for greasy hair and dandruff-prone scalp. The only drawback is that it will gradually strip color, so persons with colored hair should only use it once every week even though it is quite efficient in just one wash.
I've been having problems with my scalp, which has been irritated easily by anything. This shampoo cleans my hair thoroughly and leaves no residue. It also unclogs my hair follicles, reduces product buildup, and never makes me uncomfortable.
In addition to being an anti-dandruff shampoo, the product gave me lustrous, smooth hair and soothed my scalp, which was especially beneficial for people with irritated or inflamed scalps. This is something I would suggest for anybody who has a sensitive scalp.
Consistency
Shampoo is a pale brown color. The wash was fantastic, with wonderful natural foam. If you like your hair products to lather, this one is for you.
Benefits of Aveda Scalp Benefits Balancing Shampoo
The Aveda Scalp Benefits Balancing Shampoo has a number of advantages that make it popular among people trying to enhance the condition of their scalp and hair. Among the main advantages are:
Deep Cleansing: The shampoo thoroughly cleans the scalp by removing buildup and pollutants.
Balanced Sebum Production: The shampoo's special formulation helps in controlling sebum production, preventing the scalp from getting overly oily or dry.
Soothes Irritation: With ingredients including sage leaf extract, the shampoo soothes and calms inflamed scalps, easing itching and irritation.
Maintains Scalp's Natural Moisture Balance: The shampoo is made to keep the scalp's normal moisture balance in check, keeping it hydrated without being greasy.
Promotes Healthy Hair: The shampoo supports the general health and vitality of the hair by addressing scalp concerns and creating a healthy condition for hair growth.
How to use:
1. Wet your hair: Use warm water to fully wet your hair. This makes it possible for the shampoo to lather more efficiently and ensures complete cleaning.
2. Apply the shampoo: Apply Aveda Scalp Benefits Balancing Shampoo gently on your scalp. Apply the shampoo to your scalp with your fingertips and work up a good lather.
3. Massage and rinse: Continue massaging your scalp for a few minutes to increase blood circulation and boost the absorption of the shampoo's beneficial factors. Rinse your hair well to get rid of all shampoo residue.
4. Follow with Conditioner: For maximum results, follow up with scalp benefits and a balanced conditioner to feed and moisturize your hair strands.
Pros
Vegan and cruelty-free
Sulfate-free formula
It cleans down to the root
Promotes healthy scalp
Removes excess sebum and buildup
Gentle shampoo
Paraben-free
Leaves hair feeling clean and soft
Amazing scent
Cons
Final verdict
Aveda Scalp Benefits Balancing Shampoo has emerged as a reliable option for anyone looking for a healthy scalp and beautiful hair. It's not the cheapest, but it's worth every penny. It moisturizes the hair and scalp without weighing it down. For those who need a mild yet effective shampoo and have skin conditions like eczema, psoriasis, or a dry scalp, Aveda Scalp Benefits is fantastic.
Frequently Asked Questions
Can I use the Aveda Scalp Benefits Balancing Shampoo every day?
Yes, It is safe to use Aveda Scalp Benefits Balancing Shampoo daily. However, you might want to use it every other day or as necessary if you have really dry or sensitive hair.
Is Aveda Scalp Benefits Balancing Shampoo suitable for all hair types?
It is true that Aveda Scalp Benefits Balancing Shampoo is made to function with all hair types. Its mild but effective mixture balances and cleans the scalp without making it dry or irritated.
Can Aveda Scalp Benefits Balancing Shampoo help with dandruff?
While Aveda Scalp Benefits Balancing Shampoo is not designed to treat dandruff, it does help to produce a balanced scalp environment, which can ease dandruff-related dryness and discomfort. The best course of action for severe dandruff issues is to speak with a dermatologist.
Is Aveda Scalp Benefits Balancing Shampoo free from harsh chemicals?
Absolutely! Aveda is dedicated to offering top-notch, plant-based products. The Aveda Scalp Benefits Balancing Shampoo is free of parabens, sulfates, and other harmful ingredients that can affect the scalp and hair.